LIGHTING FOR YOUR WEDDING
Soundwave Entertainment® is one of Orlando's leading wedding lighting companies. We offer THE NEWEST LED Wall Uplighting technology available on the market.  We also offer Name / Monogram in Lights, Texturing and Cake Pinspotting.
Soundwave's LED Wall Uplighting literally "paints" walls with color. Each light yields almost 170 degrees of color.  Our technology eliminates the "cones of color" on the wall. Soundwave's LED Wall Uplighting technology is completely wireless and battery operated. Our batteries last on average 18 hours before being re-charged.  Multiple color options are available and we have the capability of changing colors with a handheld remote.
Soundwave Lighting Offerings Include: Scroll down to view images
LED Wall Uplighting
Name / Monogram In Lights
Wall and Ceiling Texturing
Cake Pinspotting
Soundwave's LED lighting can be combined with or without our DJ services. Unlike other lighting companies, Soundwave will have a technician on site for your event.

Soundwave LED Uplighting Video (Click here)
Soundwave LED Uplighting at Art Museum (Click here)
Dance Floor Lighting Is INCLUDED FREE With Our Wedding DJ Package 
(click picture to enlarge)
VARIOUS VENUES LIT BY SOUNDWAVE:
Dubsdread
Farmers Market
Gaylord Palms
Grand Bohemian Hotel
Grand Floridian
Lake Mary Event Center
Mission Inn
Mystic Dunes
Omni Champions Gate
Rosen Plaza
Rosen Shingle Creek 
Paradise Cove
Other Fine Venues
WALL UPLIGHTING 101

OUT DATED LED PAR CANS – This is the first generation of LED lighting used to put color on walls or a dance floor. Many DJ and specialty lighting companies still use this technology today. This type of light must be plugged in to wall outlets. In order to achieve a desired color to match your room decor, an additional cable and controller must be attached if it is not pre-programed into the light. The biggest downfall of par can style LED lights is that they throw a cone of light at the wall and not a true color wash.  Also, cables must be taped around your entire ballroom.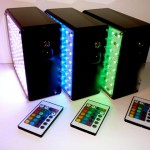 STATE OF ART LED UPLIGHTING - Wireless battery operated RGB chip LED is the newest technology in the market for specialty lighting effects. Soundwave has made a major investment in this new technology so that our clients can truly create that "Platinum Effect" at their wedding reception! We are able to offer our LED lighting at a fraction of the cost that major lighting companies charge since we are already on site dee jaying your wedding.
If you watch "Platinum Weddings" on television, LED lighting is what you are seeing for dance floor lighting and wall uplighting.  Soundwave's LED uplighting is brand new technology that is battery operated and controlled remotely.  So there are no wires!  Totally green technology!  Our LED Uplights provide an array of color options that can be easily changed with a quick hit of a button on the remote or iPad controlled.  No other specialty lighting company in Orlando offers this technology.
The LED UPLIGHTS pictured above is as powerful as a 500 watt par! This LED Wall uplight when placed at the base of a wall will yield approximately 120 degrees of  color on the wall beaming up to the ceiling due to the flat cube shape of the light.  Because they are flat cubes, these lights do not yield a "cone" effect of color that LED can style lights project.  The more LED uplights you use in a room, the more intense the color throughout your room!  With Soundwave LED Uplights, you can transform the color of an entire room!