LIGHTING FOR YOUR WEDDING
Soundwave Entertainment® is one of Orlando's leading LED Lighting Design companies. We offer THE NEWEST LED Wall Uplighting technology available on the market, Name / Monogram in Lights, Texturing, Cake Pinspotting and Centerpiece Uplighting.
Soundwave offers 2 types of Wireless LED Wall Lights:  Vivid Wall Wash Lights and Astera Spotlights. Both are wireless and batteries last 10 – 18 hours depending on the color.  Soundwave will work with you to determine which light, or a combo of the two, will work best for your ballroom and vision.
Our VIVID WALL WASH LIGHTS literally "color wash" your room as if we painted it a new color.  They provide an even wash of color eliminating the beams of light on the wall that traditional LED lights yield.  Multiple color options are available and we have the capability of changing colors with a handheld remote.
Our ASTERA SPOTLIGHTS are mega powerful lights and yield a very wide beam of light.  They are ideal for outside use on trees and architecture.  They are also idea for lighting narrow areas like columns or narrow areas between windows.  Because of their strength, they are ideal for ballrooms with very tall ceilings or walls that have a heavy color that are difficult to uplight.  Hundreds of color options are available with the technology.
Soundwave's LED lighting can be combined with or without DJ services. Our combo pricing of DJ and LED lighting saves you money.  Our pricing for just LED Lighting is affordably priced when compared to competitors; we can offer lighting significantly cheaper because of less labor involved with our wireless technology.  Our competitors often have 3-5 hours of labor costs due to running power cables and DMX wires throughout the room (older, out-dated lighting~).
Soundwave Lighting Offerings Include: Scroll down to view images
LED Wall Uplighting
Name / Monogram In Lights
Wall and Ceiling Texturing
Cake Pinspotting
Centerpiece Uplighting

Soundwave LED Uplighting Video (Click here)
Soundwave LED Uplighting at Art Museum (Click here)
Dance Floor Lighting Is INCLUDED FREE With Our Wedding DJ Package 
(click picture to enlarge)
VARIOUS VENUES LIT BY SOUNDWAVE:
Dubsdread
Farmers Market
Gaylord Palms
Grand Bohemian Hotel
Grand Floridian
Lake Mary Event Center
Mission Inn
Mystic Dunes
Omni Champions Gate
Rosen Plaza
Rosen Shingle Creek 
Paradise Cove
Other Fine Venues
WALL UPLIGHTING 101

OUT DATED LED PAR CANS – This is the first generation of LED lighting used to put color on walls or a dance floor. Many DJ and specialty lighting companies still use this technology today. This type of light must be plugged in to wall outlets. In order to achieve a desired color to match your room decor, an additional cable and controller must be attached if it is not pre-programed into the light. The biggest downfall of par can style LED lights is that they throw a cone of light at the wall and not a true color wash.  Also, cables must be taped around your entire ballroom.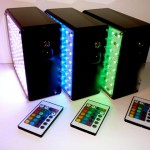 STATE OF ART LED UPLIGHTING - Wireless battery operated RGB chip LED is the newest technology in the market for specialty lighting effects. Soundwave has made a major investment in this new technology!  We offer two types of technology:  VIVID WALL WASH LIGHTS and ASTERA SPOTLIGHTS.  Both are wireless and operate with hand held remotes.  LED lighting is of course "green" technology.