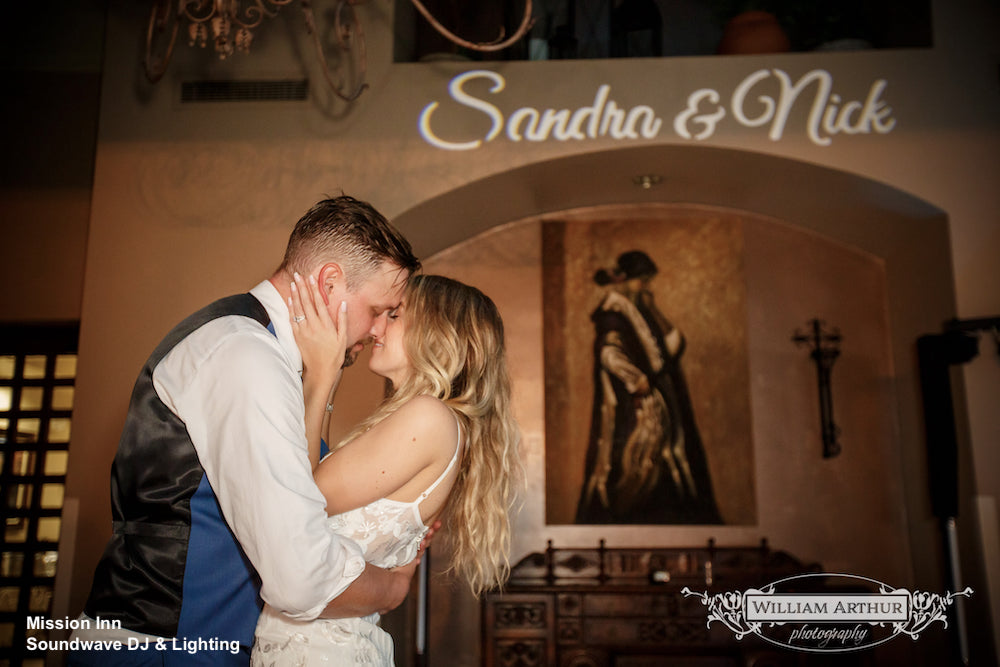 April showers bring May flowers, but on April 2, 2022 the showers brought a change of plans! Sandra and Nick were all set to have a gorgeous outdoor ceremony for their elegant wedding with party vibes at Mission Inn. But the rain quickly brought the ceremony indoors! Our team had no problem switching gears and we seamlessly transitioned to an indoor ceremony. Thankfully, none of the elegance was lost. And soon, guests were drinking and dancing with the bride and groom for a night to remember.
The Set Up
Ceremony location change? No problem! We set up our ceremony system, complete with a speaker and lavaliere mic for the officiant in the ballroom, among the reception tables. La Hacienda at Mission Inn is a gorgeous setting for any event, but this elegant wedding with party vibes was next level. The themes of blue and gold shone beautifully throughout. Our 18 LED wall uplights set to soft blue tied the whole look together. What a difference they made to the ambiance! The cake was highlighted with 1 pinspot. To complete everything, the bride and groom's names were displayed on the wall in lights.
Saying "I Do"
While Sandra and Nick might have been disappointed with the rain changing their plans, they sure didn't look it! We could tell that they were excited to be married, and that was what mattered most to them. The show must go on! As live music from a harpist floated gently through the air, the elegant wedding with party vibes was underway. Finally, the couple went from engaged to married as the officiant called for a kiss. After, their guests cheered with teary eyes.
Can We Dance Yet?
With a quick transition to reception, guests found their seats in the ballroom. It was time for this elegant wedding to turn up the party vibes! First, DJ David Regueiro put on I've Got A Feelin' by the Black Eyed Peas and announced the wedding party and newlyweds. Sandra and Nick went right into their first dance to Growing Old with You by Restless Road. After the parent dances, there wasn't a dry eye in the room. We loved sharing in these sweet, sentimental moments! Meals were served to a custom playlist of instrumental music. The couple cut their wedding cake to Sugar by Maroon 5.
Turn It Up!
After cutting their cake, the bride and groom gave a thank you speech to their guests. Next, DJ David played the anniversary dances to honor the couples who were in attendance. After all, marriage was the reason that we were all together that day! Finally, the lights turned down and we knew what that meant! A high-energy mix blew through the room with hits like Baby Got Back by Sir Mix a Lot, Electricity by Dua Lipa, Sweet Caroline by Neil Diamond, and What is Love by Haddaway. The mix was absolutely perfect for their elegant wedding with party vibes. Next, The Cupid Shuffle had everyone up on their feet. And Wobble had us heading to the bar for another drink! DJ David kept it comin' with more from 70s rock, the 80s and 90s, early 2000's chart-toppers, and current hits.
Say Goodbye
What a beautiful evening this elegant wedding with party vibes had been.  DJ David called for the last dance. Don't Stop Believing by Journey played like an anthem and all of the guests joined together on the dancefloor. The guests sang and danced their hearts out! After the final song, guests gathered their belongings and got ready for the send-off. Meanwhile, the new couple shared a private moment on the dancefloor. With the entire wedding ballroom to themselves, This Is It by Scott McCreery gave them a quiet, intimate moment to take in their night together. Finally, they ran outside under a shower of sparklers and shared one final kiss at their elegant wedding with party vibes. Then, with very full hearts, they went off to start their life together.
Venue: Mission Inn Resort & Club – La Hacienda
Coordinator: Runway Events
Photo/Video: William Arthur Photography
Florist: Bluegrass Chic
Cake: Sugar Sugar Cake Boutique
Soundwave DJ / MC: DJ David Regueiro
Soundwave Lighting & Design, and Options:
1 Pinspot light on the cake
18 LED Wall Uplights in very soft blue
Name in Lights
Dance Lights
Introduction: I've Gotta Feelin, Black Eyed Peas
First Dance: Growing Old with You, Restless Road
Last Dance: Don't Stop Believing, Journey