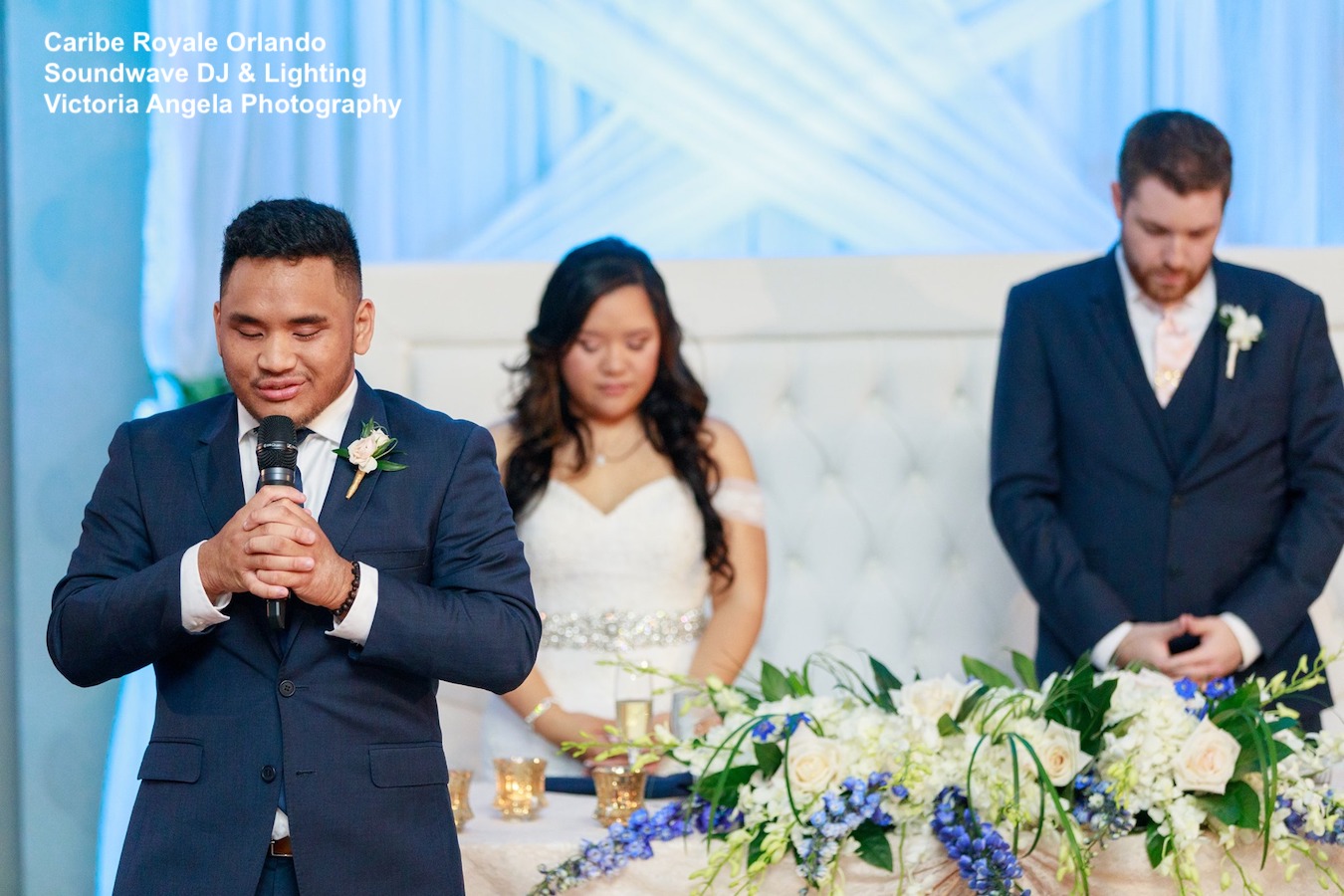 Soundwave Entertainment Services:
DJ/MC Ray Vales
24 Wall Uplights in Soft Blue
Cake Pinspot
Newlywed Table Pinspot
Introduction Song: Lets Get Loud, J Lo
First Dance Song: Moon and Back, Alice Kristiansen
Father/Daughter Song: Fathers and Daughters, Boyce Avenue
Wedding Coordinator: All About The Details
Floral: Atmospheres
Photo: Victoria Angela Wedding Photography
Cake: Sprinkles Custom Cakes
Tisha and Daniel were married May 4, 2019, at the Caribe Royale Orlando Resort. They celebrated with 175 family and friends. The wedding included Filipino traditions as part of the bride's heritage including Sponsors and the Money Dance.
Filipino Weddings reflect the strong traditions of family and symbolism. Beyond the usual bridal party, the Filipino wedding involves people who are also significant in the couple's life: the Principal Sponsors and the Secondary Sponsors.
The Principal Sponsors (aka Ninang and Ninong)are women and men whom the bride and groom respect. They are, as in the early days of the Church, sponsors of the couple attesting to their readiness for marriage and freedom to marry. These are often aunts and uncles or close friends of the family. In the Philippines, they are the official witnesses of the state and they sign the marriage license. The number of sponsors can vary from a single couple to many couples. The Principal sponsors are part of the bridal procession. The Secondary Sponsors are women and men whom the couple chooses to involve in their ceremony because of their affinity or friendship with them. They are typically relatives or close friends.
The Money Dance differs slightly from American weddings where as the money is pinned to the bride and groom.