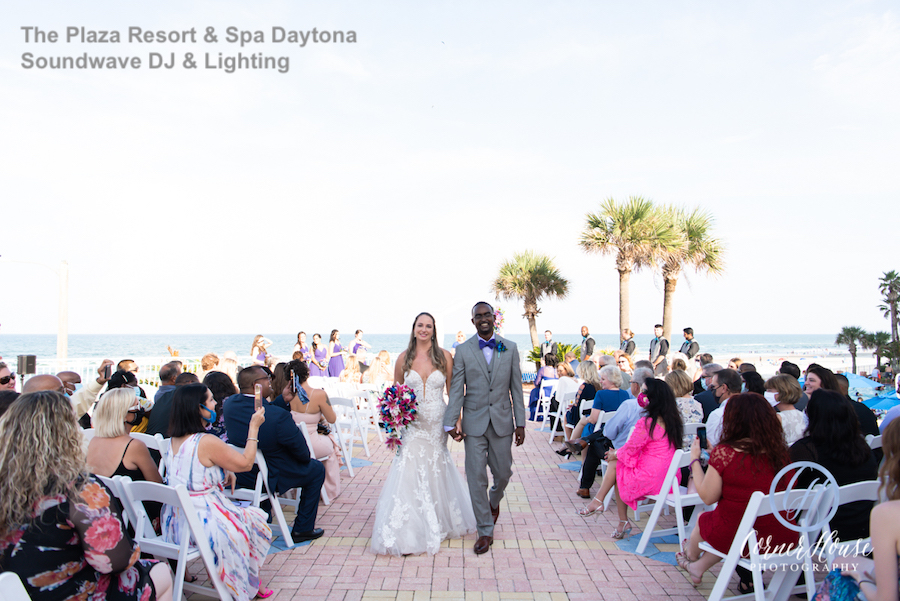 Soundwave DJ / MC:
DJ/MC Owner Les Kopasz
Soundwave Lighting & Design, and Options:
18 Wall Uplights in Ocean Blue
Cake Pinspot
Venue: The Plaza Resort & Spa Daytona
Ceremony:  featured live musicians with Soundwave providing audio for the officiant
Introduction:  Let's Get Married, Remix
First Dance:  Let Your Hair Down, Magic
Father Daughter:  I Loved Her First, Heartland
Mother Son:  A Song For Mama, Boyz to Men
Last Dance:  Longing For, Jah Cure
Floral:  Simply Roses
Photo:  CornerHouse Photography
Dreaming of a beachfront wedding? The Plaza Resort & Spa Daytona can help you make that dream a reality. Exchange your vows on The Plaza's beautiful Seabreeze Terrace, against the backdrop of the lapping waves. 
Afterward, host an elegant pre-reception hour in the Grand Colonnade before raising a toast in one of several magnificent ballrooms – including the Vista Del Mar, which looks out over the ocean.
The Plaza Resort & Spay Daytona's wedding experts and five-star culinary team will expertly create an ultimate wedding experience so you may relax and enjoy your day. The Plaza promises to flawlessly make your vision a spectacular reality.