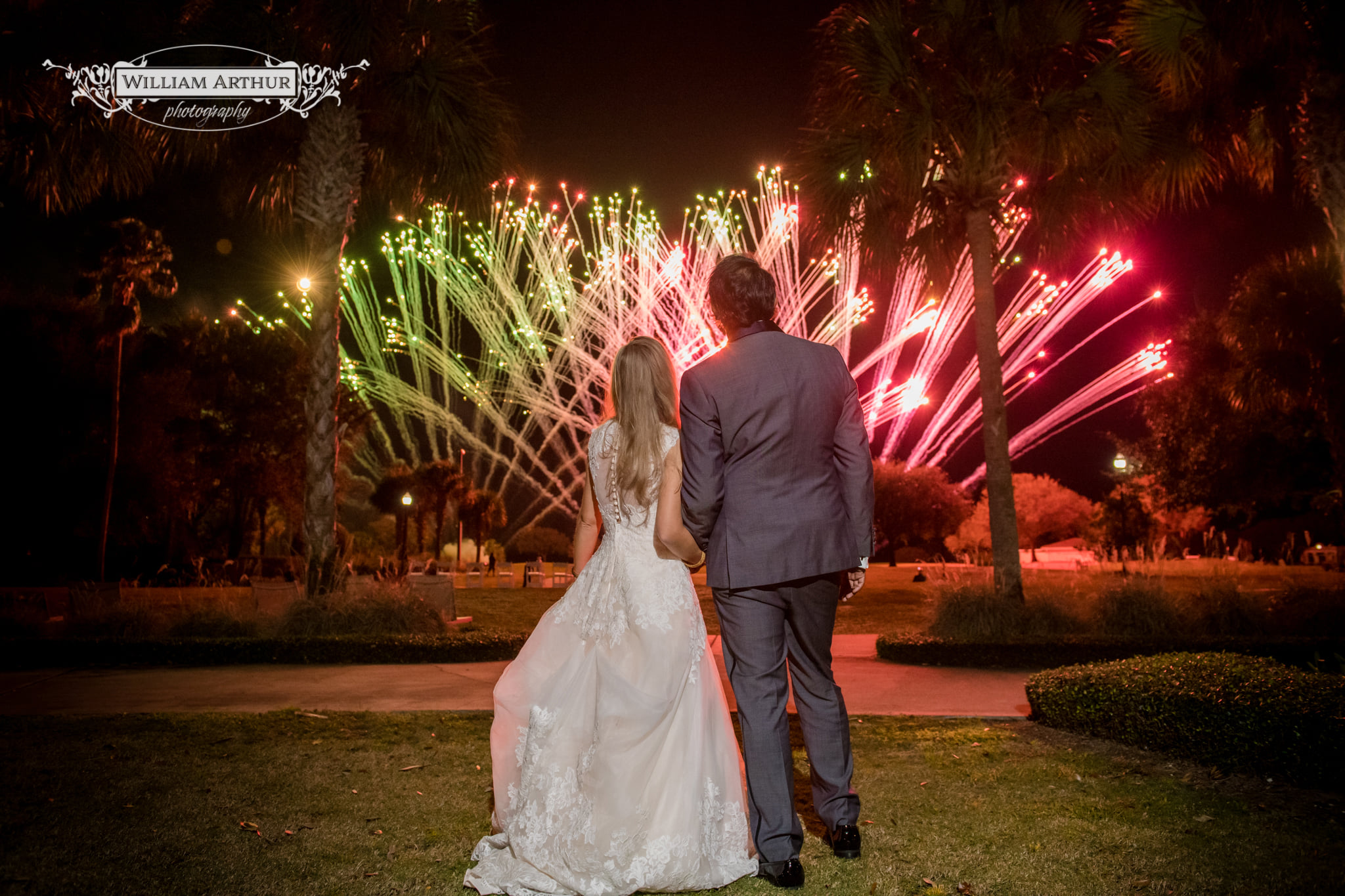 A spectucular fireworks display surprised guests at the Omni wedding of Brooke and Antony on Jan. 9, 2021. The 110 guests were led outside for cake cutting. As soon as the bride and groom cut the cake, the fireworks exploded. The awesome display, by Xtreme Special FX, lasted about 6 minutes.
The bride and groom were married in the rotunda at the Omni Orlando Resort at ChampionsGate. Live musicians provided the ceremony and cocktail music.
When the National Ballroom doors opened for the wedding reception, guests were greated by a dimly lit ballroom with blue LED Wall Lighting by us, Soundwave Entertainment. We also pinspotted the tall floral centerpieces to illuminate their beauty. The focal point was the sweetheart table with lavish floral and draping. We lit up the draping with a mix of blue and white lighting.
After the introductions, the Orlando newlyweds danced their first dance, followed by the parent dances and toasts. During the meal, guests enjoyed an aerialist performance, by Aerial Dragons Entertainment, another surprise the bride and groom planned for their guests.
The last hour and a half of the reception guests danced to a wide range of dance hits from the '70s to current pop songs supplied by Soundwave Owner DJ Les Kopasz.
Soundwave DJ / MC:
DJ/MC Owner Les Kopasz
Soundwave Lighting & Design, and Options:
Designer Illuminated DJ Front Board
24 Wall Uplights in blue
Cake Pinspot
Newlywed Table Pinspot
Pinspotting on the Centerpieces
Introduction: 24K Magic, Bruno Mars
First Dance:  Stand By Me, Ben E King
Father Daughter:  What A Wonderful World, Louis Armstrong
Mother Son:  Landslide, Fleetwood Mac
Last Dance With Guests:  Save The Last Dance For Me, Michael Buble
Private Last Dance: na
Venue: Omni Orlando Resort at ChampionsGate
Coordinator:  Eventfully Yours
Photo:  William Arthur Photography
Video:  Love & Lustre Weddings
Cake:  Sugar Sugar Cake Boutique