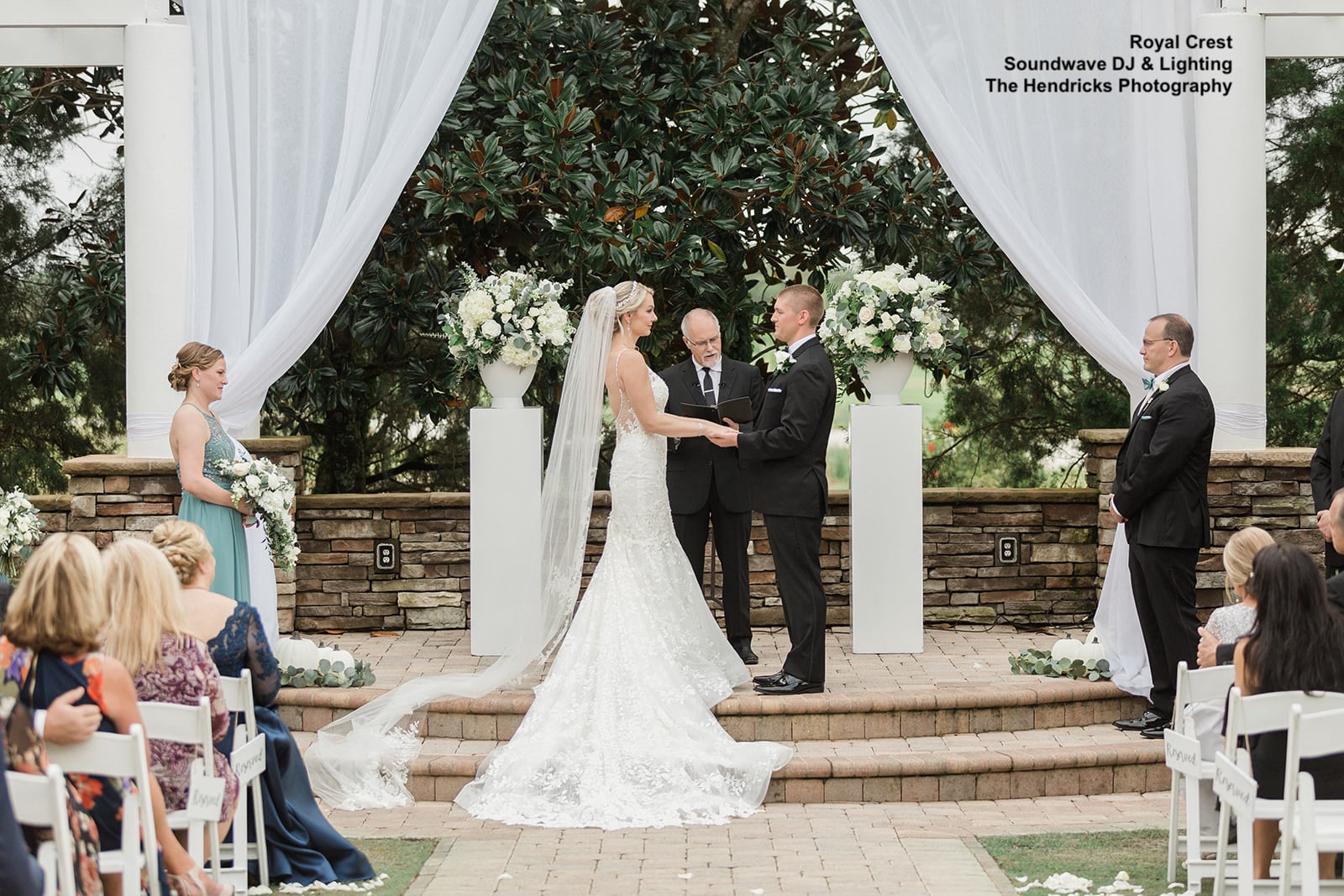 Deborah and Ryan's Royal Crest Room wedding was truly a regal celebration from start to finish! The Royal Crest Room sits around lavish water features, and the mossy green golf course in Central Florida is full of charm. It's hard to go wrong with this venue, and Deborah and Ryan's November 20, 2021 wedding was no exception.
Getting the Party Started
After an intimate outdoor ceremony at the all white trellis that sits with the golf course in the backdrop, cocktails were served patio area under the market lights. Soundwave Entertainment's DJ Justin set the stage for a grand entrance into the ballroom, with our Illuminated DJ Front Board. Soundwave provided 18 LED wall uplights throughout the ballroom in a warm, candlelight tone. As guests took their seats, Get the Party Started by Pink kicked off the wedding party introductions and the reception. 
DJ Justin introduced the newlyweds just before they shared their first dance as husband and wife to You Had Me From Hello by Kenny Chesney. After the first dance concluded, guests joined the couple in two more songs. Perfect by Ed Sheeran began the set, followed by I Gotta Feeling by the Black Eyed Peas.
When the Bride Becomes the DJ
As the night went on, guests enjoyed a few surprises from this fun bride and groom. During the anniversary dances, DJ Justin wished a happy anniversary to two of the couples who were on the dance floor. And at one point, the bride even took a turn behind the DJ booth, having fun at the mic and giving her friends and family some dance mixes. 
Finally, this Royal Crest Room wedding closed with an impressive surprise…an actual fireworks display! Afterward, the bride and groom returned to the ballroom for one last dance in private, swaying to The Rest of Our Lives by Tim McGraw and Faith Hill. Then, it was time to complete the incredible day with a sparkler send off!


Soundwave Lighting & Design:
Designer DJ Front Board (illuminated with LED lights)
18 Wall Uplights in soft, candlelight shades
Cake Pinspot
Soundwave DJ / MC: DJ Justin
Venue: The Royal Crest Room
Video: Seltzer Films
Cake: Sugar Divas Cakery
Photo: The Hendricks
Florist: In Bloom Florist