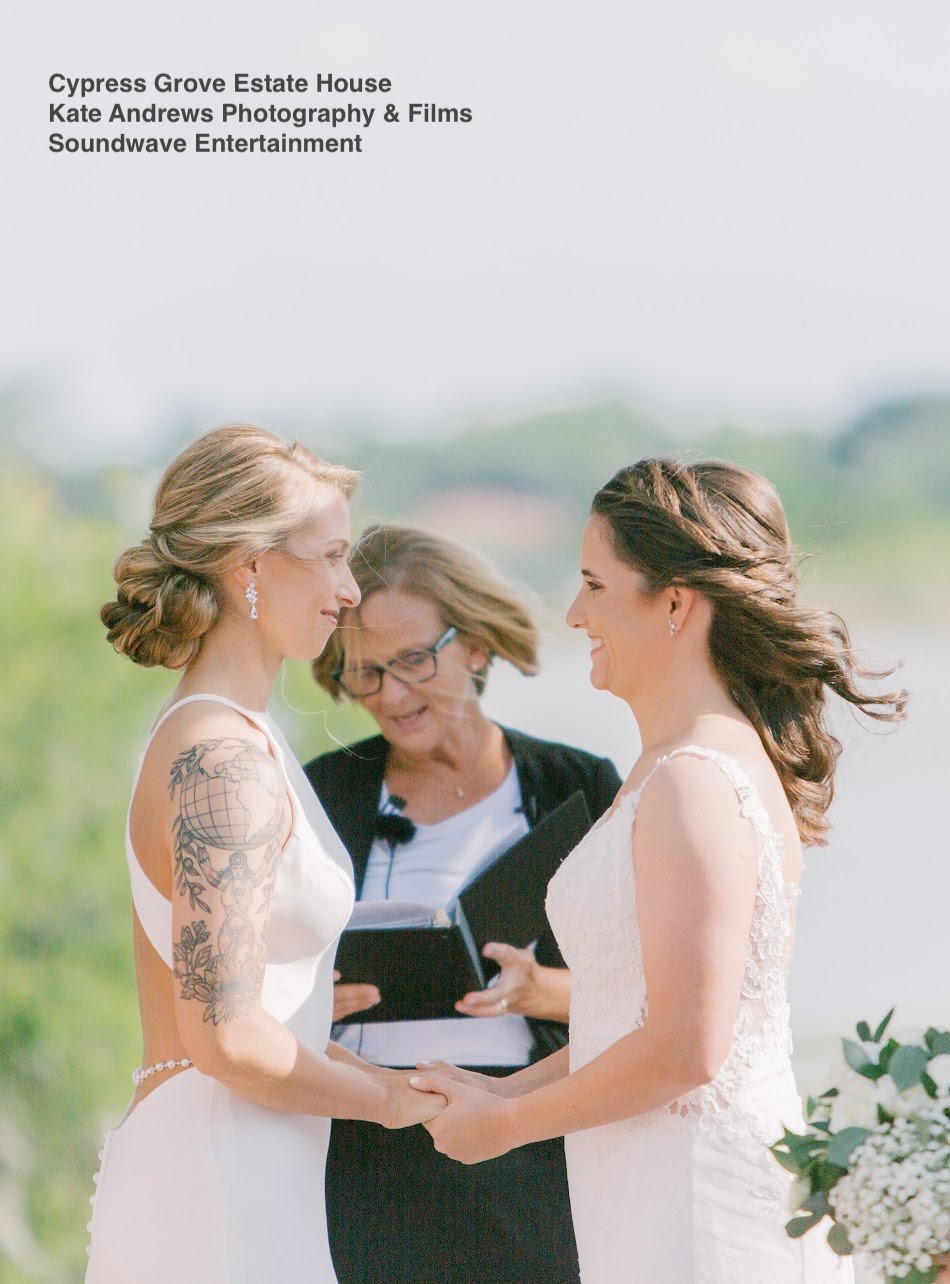 When you combine breathtaking views overlooking the water, an intimate and unplugged ceremony, and an incredible reception afterward…then you have Lauren and Elle's wedding at Cypress Grove.
The ceremony took place on a perfect afternoon in Orlando, with Spanish moss waving gently in the breeze and soft bursts of sunlight dancing off the water. The brides walked down the aisle and took their places under the romantic gazebo overlooking the water. With loved ones to one side and water to another, the unplugged ceremony was quiet, peaceful, and romantic.
After exchanging their custom vows and sharing their first kiss as newlyweds, Lauren and Elle (or "L" to family and friends) walked back up the aisle and exited the ceremony while Soundwave DJ Les Kopasz played "Today Was a Fairytale" by Taylor Swift. Guests were treated to a cocktail hour and a "2000s Pop Instrumental Mix" in the small garden until it was time to reunite with the wedding party and the Orlando newlyweds.
Finally, it was time to celebrate! The wedding party entered the venue's ampitheater to "Party in the USA" by Miley Cyrus, and the newlyweds joined the celebration to "I Kissed a Girl" by Katy Perry. As family and loved ones watched, Lauren and Elle shared their first dance to "From the Ground Up" by Dan & Shay.
The ceremony had been a soft, romantic, intimate affair, and the reception carried those same tones. Linens were kept to a tasteful and simple white, allowing for the natural beauty of the venue to shine through. When it came time for the father daughter dances, the emotion in the air was palpable. Lauren and her father danced to "The Best Day" by Taylor Swift, while Elle and her father danced to "Over the Rainbow" by Israel Kamakawiwo'ole.
After the final notes of the father daughter songs ended, the guests were ready to hit the dance floor! The first part of the dancing had a little bit of something for every musical taste. And as the night continued, DJ Les added even more excitement to the dancing crowd with favorites like "Yeah" by Usher and today's hits like "Sweet But Psycho" by Ava Maxx.
It was pretty obvious that everyone could have kept celebrating and dancing long into the small hours of the night, but the time finally came for guests to say farewell to the brides. As guests left the dance floor and the newlyweds were alone in the quiet space, Lauren and Elle were able to share one final dance together privately to "Anyone" by Justin Bieber.
And at last, it was time for a formal farewell. The happy couple left their wedding at Cypress Grove under a blazing archway of sparklers and well-wishes from guests, ready to start their new life together.
Soundwave DJ / MC:
DJ Les Kopasz
Processional: "Speechless" by Dan & Shay
Recessional: "Today Was a Fairytale" by Taylor Swift
Introduction: "I Kissed a Girl" by Katy Perry
First Dance: "From the Ground Up" by Dan & Shay
Last Dance With Guests: "Love Story" by Taylor Swift
Private Last Dance: "Anyone" by Justin Bieber
Venue: Cypress Grove 
Coordinator: Anna Christine Events
Caterer: Big City Catering
Officiant: Kelly Hunsberger
Floral: Bluegrass Chic
Photo: Kate Andrews Photography and Film