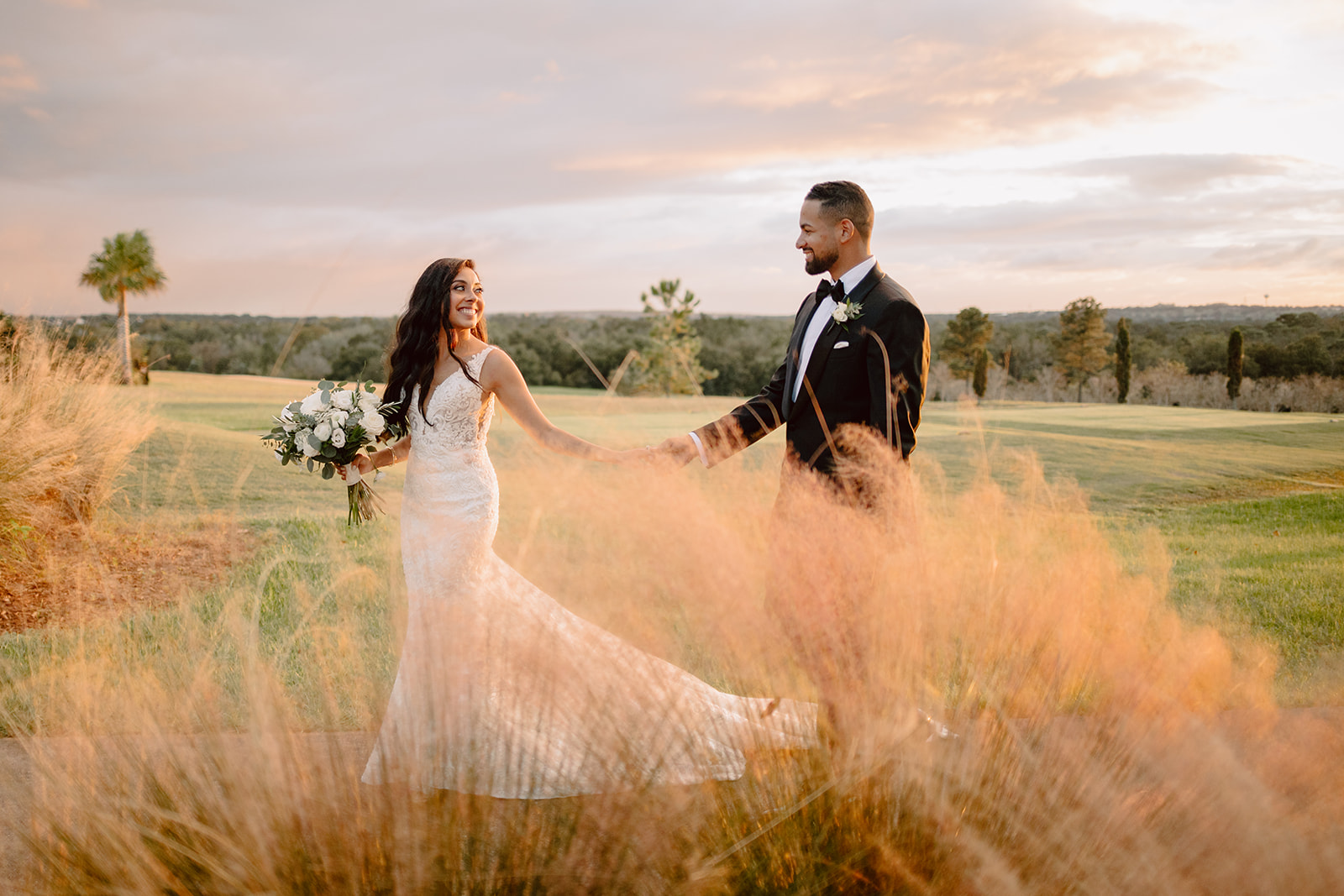 The Latin wedding celebration of Stephanie and Jean took place at the esteemed Bella Collina. Bella Collina is an amazing private country club in Montverde, FL, 25 minutes west of Downtown Orlando. The country club is Orlando's most sought after luxury wedding venue offering upscale Tuscan elements combined with rolling hills.
DJ Ray Vales of Soundwave Entertainment celebrated with Stephanie and Jean on November 20, 2020. The Latin wedding celebration was attended by 100 family and friends on a gorgeous Fall late afternoon. Soundwave DJ Ray Vales spoke English and Spanish throughout the Orlando wedding celebration. DJ Ray Vales provided a music mix of American and Latin hits.
The Orlando bride and groom chose Soundwave's Luxury All Inclusive Package that combined DJ and emcee services, and extensive LED Lighting Design. Soundwave provided 30 Wall Uplights in a warm candle light glow throughout the ballroom and foyer. Soundwave also provided designer DJ front board to match the Bella Collina bar, 20 pinspots to illuminate the cake and centerpieces, dance lights, and mini moving heads for extra effects during the dance party.
Soundwave DJ / MC:
DJ/MC Latin Expert Ray Vales
Soundwave Lighting & Design, and Options:
Designer Walnut Handcrafted DJ Front Board
30 Wall Uplights in Candle Light / Warm Glow
20 Pinspots for Cake, Headtable, Centerpieces
Mini Moving Heads
Processional: special mix provided by bride and groom
Bride: special mix provided by bride and groom
Recessional: Future Looks Good, One Republic
Introduction: Vivir Mi Vida, Marc Anthon
First Dance: God Only Knows, Michael Buble
Father Daughter: Hija, Abraham Velazquez
Mother Son: Es Mi Madre, Gerson Galvan
Venue: Bella Collina
Coordinator:  Anna Christine Events
Officiant:  Rev. Erick Morales
Floral:  In Bloom Florist
Photo/Video:  Natura Collective
Cake:  Publix Bakery