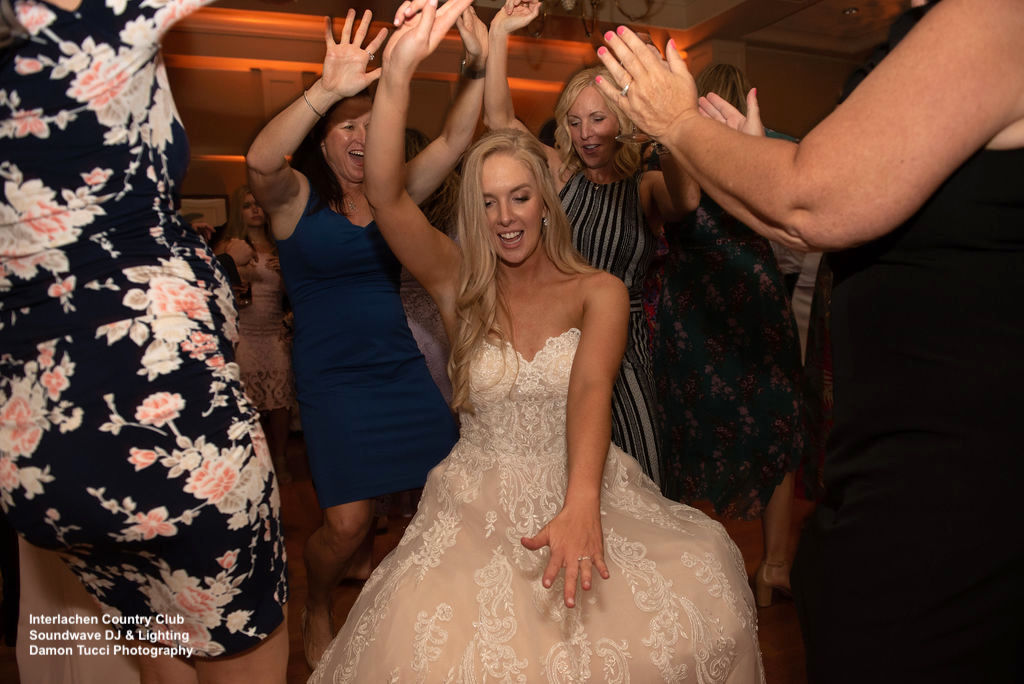 Katie & Kasey's Interlachen Country Club reception was one for the history books. The party was F-U-N from beginning to end! The Interlachen Country Club, located in Winter Park, Florida, is one of Central Florida's premier wedding venues. Stunning facilities, unparalleled lake and golf course views, and exceptional cuisine make it an exceptional wedding experience for many Orlando couples.
The evening began with guests sipping cocktails & mingling in the lounge and patio. Soundwave DJ Ray Vales ushered everyone into the reception room for the eagerly anticipated introduction of the wedding party and newlyweds. "All You Need To Know" by Gryffin and Slander played as Mr. and Mrs. Kasey Alexander Thomas were formally introduced. The couple shared a sweet first dance to "How Would You Feel" by Ed Sheeran and Paean.
The reception space was stunningly decorated with classic white linens, dark wood chivari chairs and white hydrangea floral arrangements. We provided LED Wall uplights in a candle light color, bringing an added layer of warmth and elegance to the space. Guests celebrated the newlyweds with toasts, parent dances, a delicious plated dinner.  The Soundwave Photo Booth added to the festivities. What this couple was focused on though, was ramping up the party on the dance floor!
As the clock struck 9 pm DJ Ray kicked the party into high gear with glowsticks as "Rhythm is a Dancer" by Breathe Carolina and Dropgun & "Be My Lover " by Sam Feldt and Alex Schulz set the mood. A mixture of participation dances, classic rock, throwbacks from the 80s-2000s and modern day hits like "Better Now" by Post Malone kept the party going and the dance floor packed. Guests of all ages danced late into the night. Closing out the evening, DJ Ray played "Party in the USA"  by Miley Cyrus – a perfectly suited last dance for this dynamic Interlachen Country Club reception!
Venue: Interlachen Country Club
Coordinator: Brian Joyce of Flourish Productions
Caterer: Interlachen Country Club
Floral: Flourish Floral
Photo: Damon Tucci
Video: Lupinek Productions
Soundwave DJ / MC:
DJ/MC Ray Vales
Soundwave Lighting & Design, and Options:
Photo Booth
18 Wall Uplights in the color candle light
Cake Pinspot
Dance Lights
Introduction: All You Need To Know, Gryffin and Slander
First Dance: How Would You Feel, Ed Sheeran and Paean
Father Daughter: The Way You Look Tonight, Frank Sinatra
Mother Son: Humble and Kind, Tim McGraw
Last Dance With Guests: Party in the USA, Miley
Private Last Dance: No Ordinary Love, Sade