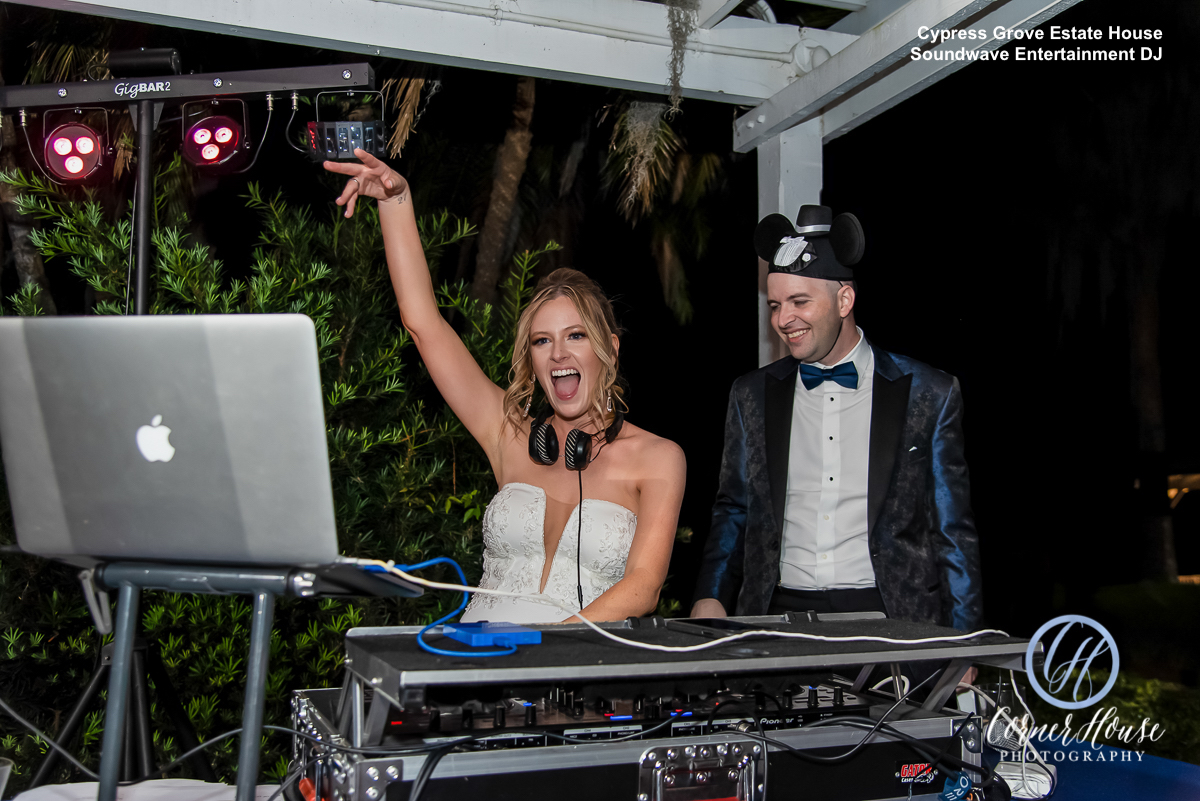 Madison and David's Cypress Grove Estate House wedding was a joyous outdoor affair! This couple wanted to ensure their guests had fun from beginning to end. Cypress Grove is a stunning 1925 lakeside estate, nestled right in the heart of downtown Orlando. This romantic venue sits on 80 acres and features idyllic photo opportunities with aged cypress and oak trees, abundant seasonal flowers and meticulously manicured lawns. The Orlando venue is managed by RW Events with catering offered exclusively by Big City Catering, one of Orlando's finest caterers.
The Orlando newlyweds opted for a fully outdoor event, beginning with their ceremony on the lawn, overlooking the beautiful Lake Jessamine. The processional began with 'Stand By Me' by Florence and the Machine and the bride surprised the groom with a very meaningful song for her walk down the aisle, 'Hey Ya' by Obediah Parker! Stunning floral arrangements by Fairbanks Florist lined the aisle and archway, creating a picture perfect backdrop.
The Florida spring weather was ideal for the outdoor reception that followed. Held at the amphitheatre outside the Cypress Grove House, guests gathered under café lights to celebrate the newlyweds. The couple set the stage for a night of fun by choosing 'Bring Em Out' by TI for introductions, which was sweetly contrasted by their first dance to 'The Best' by Tina Turner. The newlyweds told DJ Colt they wanted a high energy mix of music, and he delivered! The dance floor was filled all night long, and guests danced to a mix of pop, throw backs, country, oldies, current hits and slow dances.
Ending the night, Mr. and Mrs. Hiller shared their last dance with guests to 'This Will Be An Everlasting Love' by Natalie Cole with guests, and a private last dance to 'Thinking Out Loud' by Ed Sheeran. They set sail into the night and bid farewell to guests in a perfectly fitting ending to this Cypress Grove wedding.
Venue: Cypress Grove Estate House
Coordinator: Bella Sposa
Caterer: Big City Catering
Officiant: Justice Alan Lawson
Floral: Fairbanks Florist
Photo: Corner House Photography
Video: Seltzer Films
Soundwave DJ / MC:
DJ/MC Manager Justin Coulter, aka DJ Colt
Soundwave Lighting & Design, and Options:
Photo Booth
Dance Lights
Processional: Stand By Me, Florence and the Machine
Bride Entrance:Hey Ya, Obedia Parker
Processional:Hey Yeah, Outkast
Introduction: Bring Em Out, TI
First Dance: The Best, Tina Turner
Father Daughter: The Way You Look Tonight, Sinatra
Mother Son: All To You, Scott Keo
Last Dance With Guests: This Will Be An Everlasting Love, Natalie Cole
Private Last Dance: Thinking Out Loud, Ed Sheeran