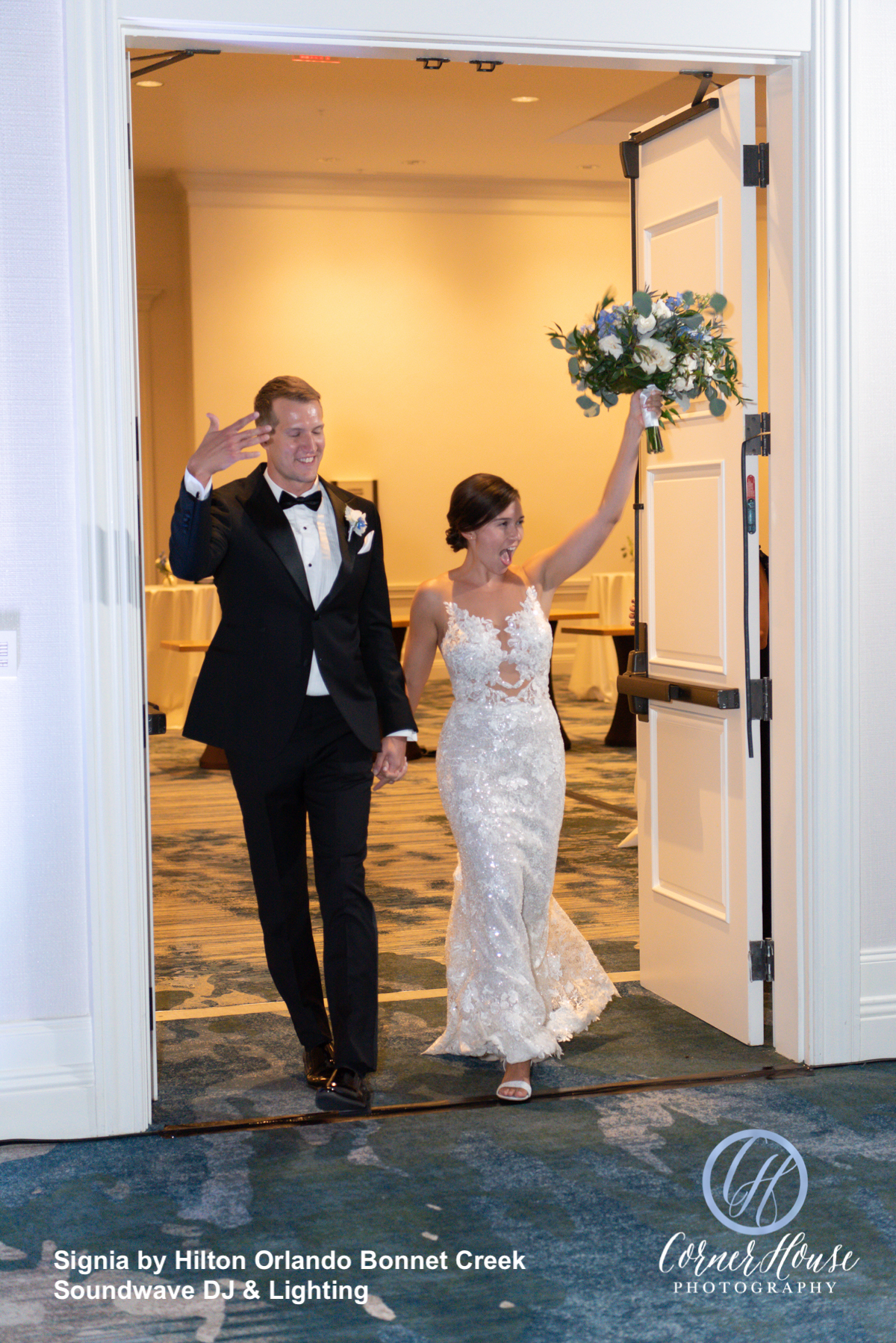 The love, laughter, and dancing kept coming at Benjamin and Allison's wedding at the Hilton Orlando Bonnet Creek. Their October 30th, 2021 wedding had it all: a romantic ceremony outdoors, extensive LED Lighting indoors, and even a photo booth for guests to make their own memories with the newlyweds.
Outdoor Ceremony on a Perfect Fall Day
The ceremony for this Central Florida wedding took place outside with a beautiful backdrop of palm trees and blue skies. The bride entered to Good for Me by Above & Beyond and she met her groom under a floral arch. After Ben and Allison exchanged their vows, they sealed their new union with a kiss. They made their way back up the aisle as husband and wife, while Soundwave DJ Justin played Happy Together by The Turtles.
Cocktails and Soundwave Lighting Design Magic
After the ceremony, guests enjoyed cocktails while listening to a custom playlist. The vibe was fun and easygoing, with songs like Knee Deep by the Zac Brown Band and Brown Eyed Girl by Van Morrison. The bride and groom enjoyed a sneak peak of their reception space before anyone else arrived, giving them a chance to see their reception design come to life.
Soundwave's lighting design team had a lot of fun setting up the design for this space. The reception area featured 30 wall uplights in a soft white set against a soft blue drape. We provided over 15 Pinspots …each table centerpiece was illuminated, along with the wedding cake and newlywed table. Dance lights included large and small Moving Heads, with the larger Moving Heads mounted on totems.
The space was beautifully done and allowed for flexibility throughout the night. Whether the newlyweds needed soft, romantic lighting for their first dance – or dance lights and a booming bass for the afterparty – our design was ready for action.
Soundwave DJ Introductions and Formal Dances
Soundwave's very own DJ Justin kicked off the introductions with One More Time by Daft Punk. Guests cheered as the parents of the newlyweds entered, followed by members of the wedding party. Finally, it was time to announce the new husband and wife!
The newlyweds took to the dance floor, enjoying their first dance to Twirl Me by Wildlight (feat. The Polish Ambassador and Ayla Nereo.) After the first dance, Allison was joined by her father for the father-daughter dance. Benjamin and his mother followed with their own dance, and then Ben shared a dance with Allison's grandmother, swaying to Forever Young by Rod Stewart.
Dinner and Dancing, and AFTER PARTY for This Wedding at Hilton Bonnet Creek
After a welcome by the bride's father and a blessing by the groom's father, it was time to eat! Guests were treated to a plated dinner, and enjoyed heartfelt toasts from the best man and from Allison's brother. Soundwave DJ Justin hosted an anniversary dance to songs like This I Promise You by *NSYNC and I Swear by John Montgomery. The couple cut their cake…and then it was time to dance the night away!
Unique to this wedding, the beginning of the reception, from 9:00 – 10:30pm, featured a music vibe of pop hits for all ages. Then at 10:30 the AFTER PARTY KICKED!  Soundwave DJ Justin went into total club mode with heavy mixing and scratching!  We turned off all the lights in the ballroom, increased the volume, turned on the subwoofer, and provided an extravaganza of dance lights changing to the music beat, mini Moving Heads and Large Scale Moving Heads  …total high energy with a mix of house, EDM, techno, and hip hop.
Some of the songs during the After Party included…
Cinema – Benny Benassi (Skrillex Remix) 
Everytime We Touch – Cascada (Hardwell & Maurice West Remix)
Get Low – Ying Yang Twins, Lil Jon 
Heads Will Roll – Yeah Yeah Yeahs (A-Trak Remix Radio) 
I Could Be the One – Avicii & Nicky Romero 
Pursuit of Happiness – (Extended Steve Aoki Remix) Kid Cudi                                  
Take Over Control – Afrojack
A highlight of the evening was our digital photo booth. Guests gathered around, doned some of the provided props, and smiled big. Our photo booth is always a hit at events, and gives guests a unique way to remember that special celebration!
Eventually, it was time to wind down the celebrations. This wedding at Hilton Bonnet Creek in Orlando was definitely one for the books, and we were honored to be part of this incredible day!
Soundwave Lighting & Design:
Designer Illuminated DJ Front Board
30 Wall Uplights in soft white
17 Pinspots (1 cake, 2 on newlywed table, 14 centerpieces)
Large Moving Heads on Totems with DMX
Mini Moving Heads
Dance Ligths
Soundwave DJ / MC: DJ Justin
Soundwave Digital Photo Booth
Venue: Hilton Orlando Bonnet Creek
Coordinator: The Soiree Co.
Cake: Couture Cakes by Lia
Photo: Corner House Photography
Florist: Raining Roses Production