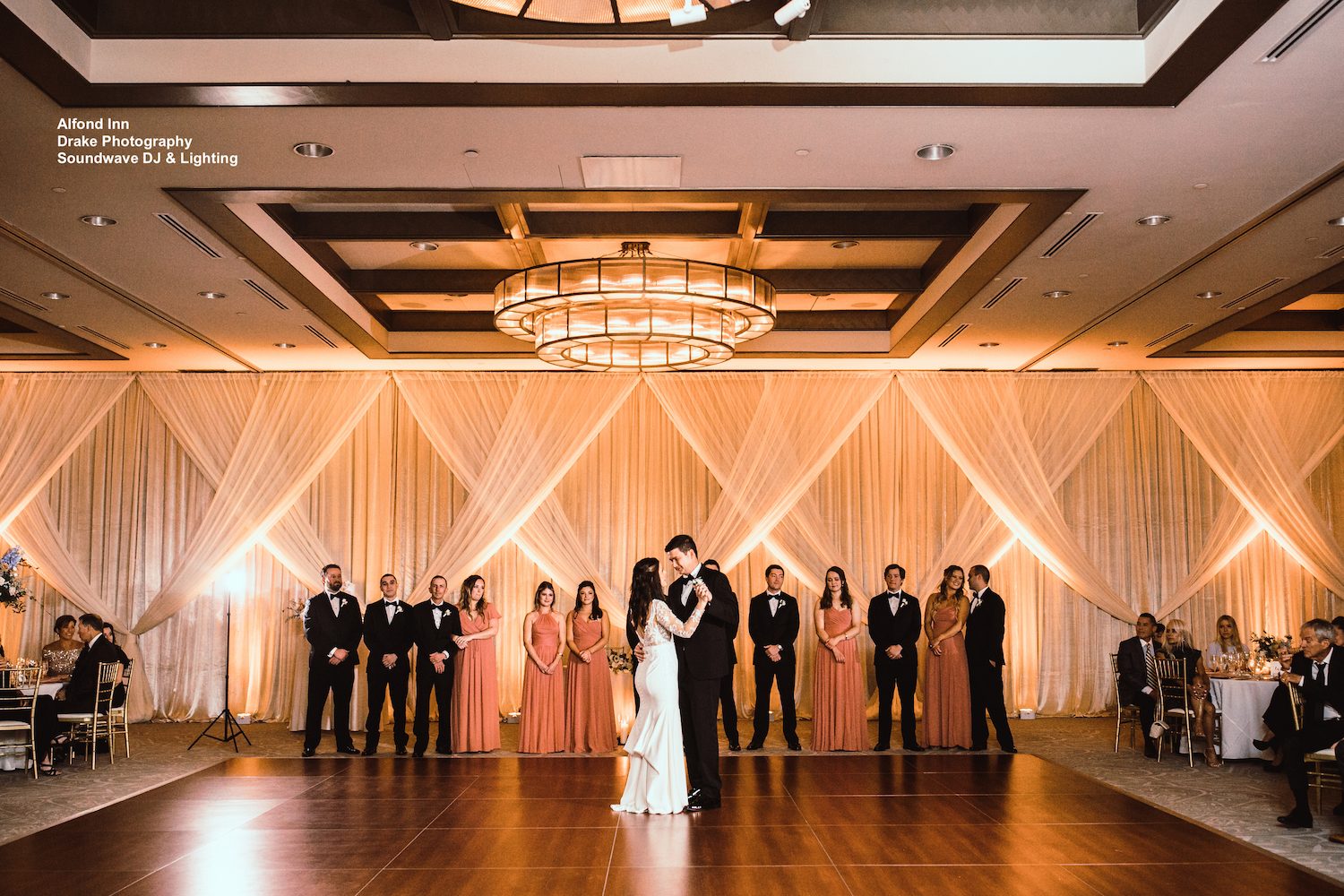 For this wedding at the Alfond Inn, the bride and groom combined the luxurious greenery of an outdoor ceremony with the warm candle-light vibes of an indoor reception. Marissa and Michael tied the knot on November 13, 2021, in a gorgeous outdoor garden. The bride, groom and guests partied all night under a picturesque warm glow. Dancing came easily with a perfect mix of throwbacks and current hits to create a night to remember for this perfectly glowing romantic wedding.
Gorgeous Outdoor Ceremony
The wedding festivities started outside in the Alfond Inn garden, surrounded by beautiful natural greenery and a warm Florida Fall sky. After performing ceremony sound checks, we began the custom instrumental selection to set the romantic mood as guests arrived. The processional started with a love song. Marissa, the beautiful bride, walked down the aisle to "Canon in D" by Brooklyn Duo. The bride and groom stood on the steps of the terrace and said "I Do" among family and friends. Guests didn't miss a single word thanks to our discreet lavaliere microphone, which blended seamlessly into the collar of the officiant's outfit for a clean look. Cocktails followed with a cool, upbeat mix of Jazz Pop Instrumental music.
Cozy Meets High-Energy Reception
Inside, the ballroom was illuminated with soft, candle-light vibes. Our 24 LED Wall Upights lining the room created the perfect ambiance for a glowing romantic wedding. After DJ David had the honor of introducing the parents and wedding party, Mr. and Mrs. Gover entered the reception to resounding applause and smiling faces. Next, they shared their first dance to "Make You Feel My Love" by Adele.  Our lighting features are an excellent way to direct your guests' attention, and all eyes were on the newlyweds' table with two pinspot lights. We also highlighted the cake table and six tall centerpieces so all of the little details wouldn't be lost. DJ David's sound equipment was shielded by our Designer Boxwood Front Board to tie in the whole look of the room.
Dancing and More Dancing
The couple requested a custom mix of 70 – 80's Rock, some Disco/Funk, 90's and early 2000's Pop & Hip Hop, and current hits. DJ David delivered with clean, radio edited versions of some of our favs, plus special picks from bride and groom. "Levitating" by Dua Lipa, "Danza Kuduro" by Don Omar ft. Lucenzo, the classic "Shout" by Otis Day, and so much more made their list. After drinks, dance, food, dance, cake and more dance, it was time to say goodbye. We danced one last time to none other than Journey's "Don't Stop Believing." Then, guests lit sparklers and cheered as we sent the new Mr. and Mrs. Gover off. Finally, Marissa and Michael shared one last private dance under the glowing romantic lighting, "You Are In Love" by Taylor Swift.
Soundwave Lighting & Design:
24 LED Lights in Candle Light / Warm Glow
9 Pinspots (1 cake, 2 on newlywed table, 6 tall centerpieces)
Designer Boxwood Front Board
Dance Lights
Soundwave DJ / MC: DJ David
Venue: The Alfond Inn
Coordinator: Just Save the Date
Photo: Drake Photography
Cake: Tru-Cakes (formerly Sprinkles Custom Cakes)
Florist: In Bloom Florist