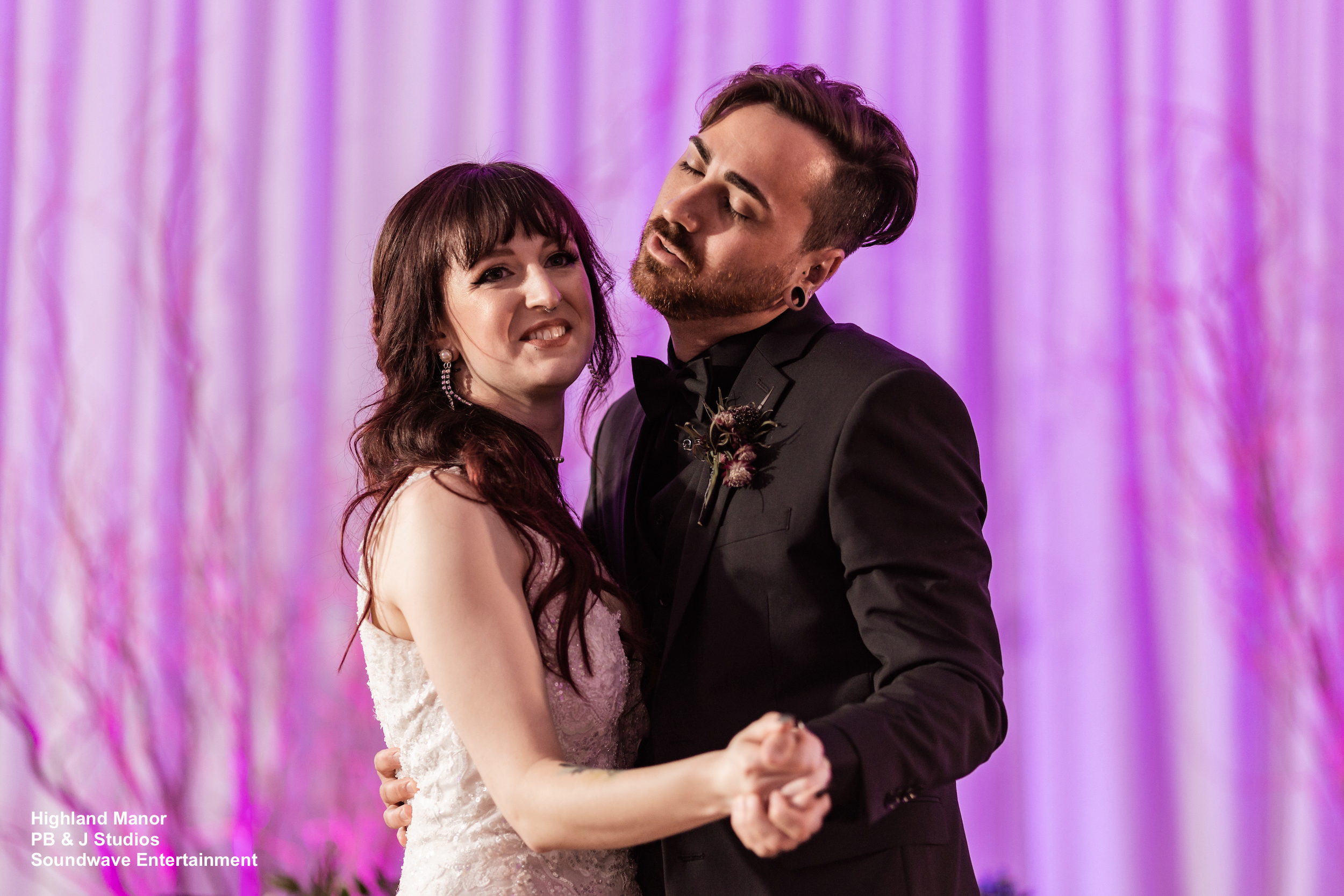 Emma + Victor
It was a romantic time at this Emo-Vibe wedding at Highland Manor for Emma and Victor! Our DJ/Owner Les Kopasz was sure to have the perfect music and atmosphere for a night of love and celebration. Allow us to take you on a glimpse into the night planned by Plan It!, captured through the lens of PB&J Studios, as these guests and newlyweds danced the night away the night before Halloween.
Ceremony
As the guests took their seats under a large luscious Oak Tree, the wedding party made their way to Disney's Moana song How Far I'll Go. The wedding party fits the creative emo-inspired theme by dressing in all black. As the bride made her way to the aisle to join her groom, Jurassic Park Theme by The Piano Guys filled the speakers. The officiant, longtime friend of the bride and groom, married the couple using our Lavaliere mic, making sure the guests could hear every word, especially the bride and groom's vows loud and clear! After the vows, and saying YES! the two were officially newlyweds, sealing their commitment with a kiss and exiting the ceremony to The Princess Bride. 
Black and Gold
After the cocktail hour, it was time to get this wedding started! The reception room consisted of our Reception sound system, Dance Party Lights, LED Wall Uplighting in deep purple, and Pinspotting for the sweetheart table, and centerpieces.
Wedding Traditions
The wedding party was introduced to the We're All in This Together from the High School Musical Cast, followed by the introduction of the new Mr. and Mrs. After the introductions, the newlyweds and their guests fell into synch with a meal to enjoy and must-have wedding traditions. The bride and groom took over the dance floor to the song Dance with Me Tonight by Olly Murs. Afterward, the bride and groom danced with their respective father and mother to half of the Tarzan soundtrack song You'll Be in My Heart.
The dance floor was then opened up and DJ Les took requests from artists consisting of hits from My Chemical Romance, The Killers, Avril Lavigne, The All-American Rejects, Blink 192, The Fallout Boys, and more. These music lovers had the party of a lifetime celebrating some of their favorite people.  As the night came to an end, the newlyweds and their guests danced to one last song, Endless Fantasy by Anamanaguchi. It was a perfect night celebrating these newlyweds at their emo-vibe wedding at Highland Manor.
Soundwave DJ
Owner Les Kopasz
Soundwave Special Effects & Enhancements
Pinspots for the Cake, Newlywed Table and Centerpieces
18 LED Wall Uplights in Purple
Vendors
Venue: Highland Manor
Planner: Plan It!
Photo: PB&J Studios
Cake: Bakers Cottage
Florist: Flowers by Lesley
Requested Music
Processional Song: How Far I'll Go (Moana)/Midnite String Quartet
Bride Song: Jurassic Park Theme/The Piano Guys
Recessional Song: The Princess Bride – Storybook Love/Vitamin String Quartet
Formal Introduction: We're All in This Together – High School Musical Cast
First Dance: Dance with Me Tonight – Olly Murs
Father Daughter: You'll Be In My Heart – Phil Collins from Tarzan
Mother Son: You'll Be In My Heart – Phil Collins from Tarzan
Last Dance: Endless Fantasy – Anamanaguchi
Requested Party Songs
1985 – Bowling for Soup
Africa – Weezer
All The Small Things – Blink 192
Blue Boy, Orange Juice
Chocolate – The 1975
Dirty Little Secret – The All American Rejects
Grand Theft Autumn/Where is Your Boy – Fall Out Boy
I Wanna Get Better – Bleachers
Lips Like Sugar, Echo and the Bunnymen
Misery Business – Paramore
Moshi Moshi – Poppy
Mr. Brightside – The Killers
Sk8er Boi – Avril Lavigne
Stacy's Mom – Fountains of Wayne
The Anthem – Good Charlotte
Welcome To The Black Parade, My Chemical Romance