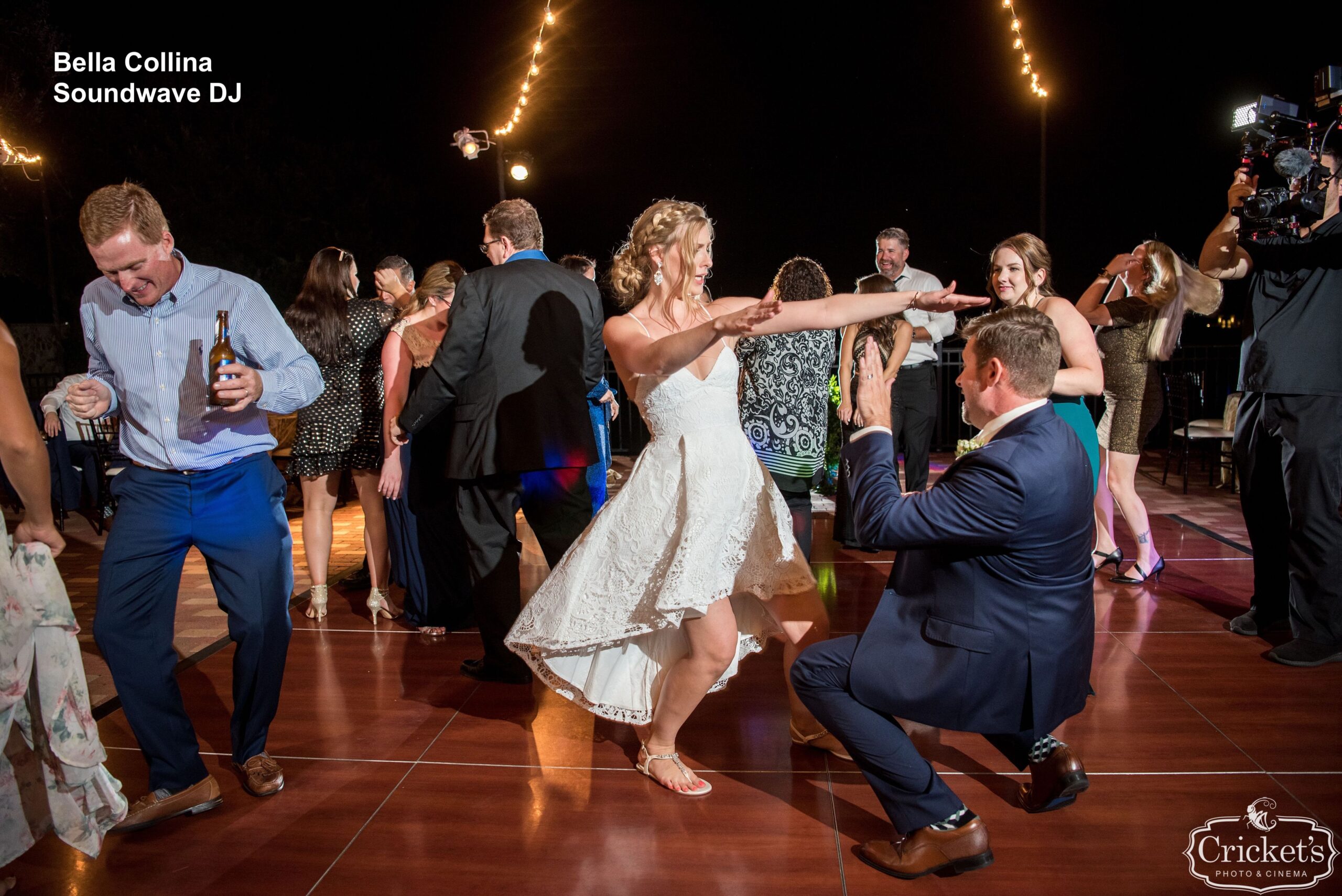 Celebrating a Fall Wedding at Bella Collina
Fall in Florida is a great time to get married. We were so excited to be part of Katie and Kolby's October 20, 2021, wedding at Bella Collina! This venue is classically beautiful, with a backdrop that transports couples and their guests to the Tuscan countryside.
Vintage Lace and a Ceremony to Remember
As they entered the ceremony to Known by Tauren Wells, the bridesmaids were perfectly poised for fall in their dark teal dresses. Katie looked stunning as she walked down the aisle to Prayed for You by Matt Stell. Her lace wedding gown was a modern twist on a vintage look, and Katie fit perfectly into the old and ethereal atmosphere of Bella Collina.
Cocktails and Introductions
Guests enjoyed a cocktail hour at Bella Collina's Reflection Pool featuring a mix of modern love vocalist songs by Soundwave DJ Dennis Michael. When it was time to greet the newlyweds again, the DJ invited guests into the reception space taking place on the Bella Ballroom Outdoor Terrace. The wedding party entered to Levitating by Dua Lipa, then waited on the dance floor. DJ Dennis Michael announced the couple that everyone had been waiting for: the new Mr. and Mrs. Kolby Maddox!
A First Dance, a Blessing, and a Garter
Katie and Kolby enjoyed a first dance to Tip of My Tongue by Kenny Chesney. They then gave a heartfelt welcome to their guests before turning the microphone over to the father of the groom who delivered a blessing. The blessing was followed by dinner, and then the newlyweds cut their wedding cake to Love You Like I Used To by Russell Dickerson. The guests went wild as Kolby removed Katie's garter, tossing it into the crowd while Hot In Herre by Nelly played in the background.
Not to be outdone, Katie threw her bouquet into the crowd – and then it was time to dance! DJ Dennis Michael kept the party going with a mix of current hits and old favorites. Guests danced to country, hip hop, Latin, and anything else with a great beat and high energy. Crowd favorites included Fancy Like by Walker Hayes and Everybody by Backstreet Boys.
Final Dances for This Wedding at Bella Collina
All good things come to an end, and it was eventually time to close the fun night. Guests danced to You Should Probably Leave by Chris Stapleton before heading out to wait for the newlyweds. Katie and Kolby enjoyed a private last dance to Florida Georgia Line's song Island. They finished their dance and then made their way to the front of Bella Collina, where guests sent them off under a shower of bright sparklers and well wishes.
Venue: Bella Collina
Coordinator: At Last Wedding and Event Design
Photo: Cricket's Photo + Cinema
Florist: Flowers By Lesley
Soundwave DJ / MC: DJ Dennis Michael
Processional: Known, Tauren Wells
Bride Entrance: Prayed For You, Matt Stell
Recessional: Classic, MKTO
Introduction: Levitating, Dua Lipa
First Dance: Tip of My Tongue, Kenny Chesney
Cake Cutting: Love You Like I Used To, Russell Dickerson
Last Dance: You Should Probably Leave, Chris Stapleton