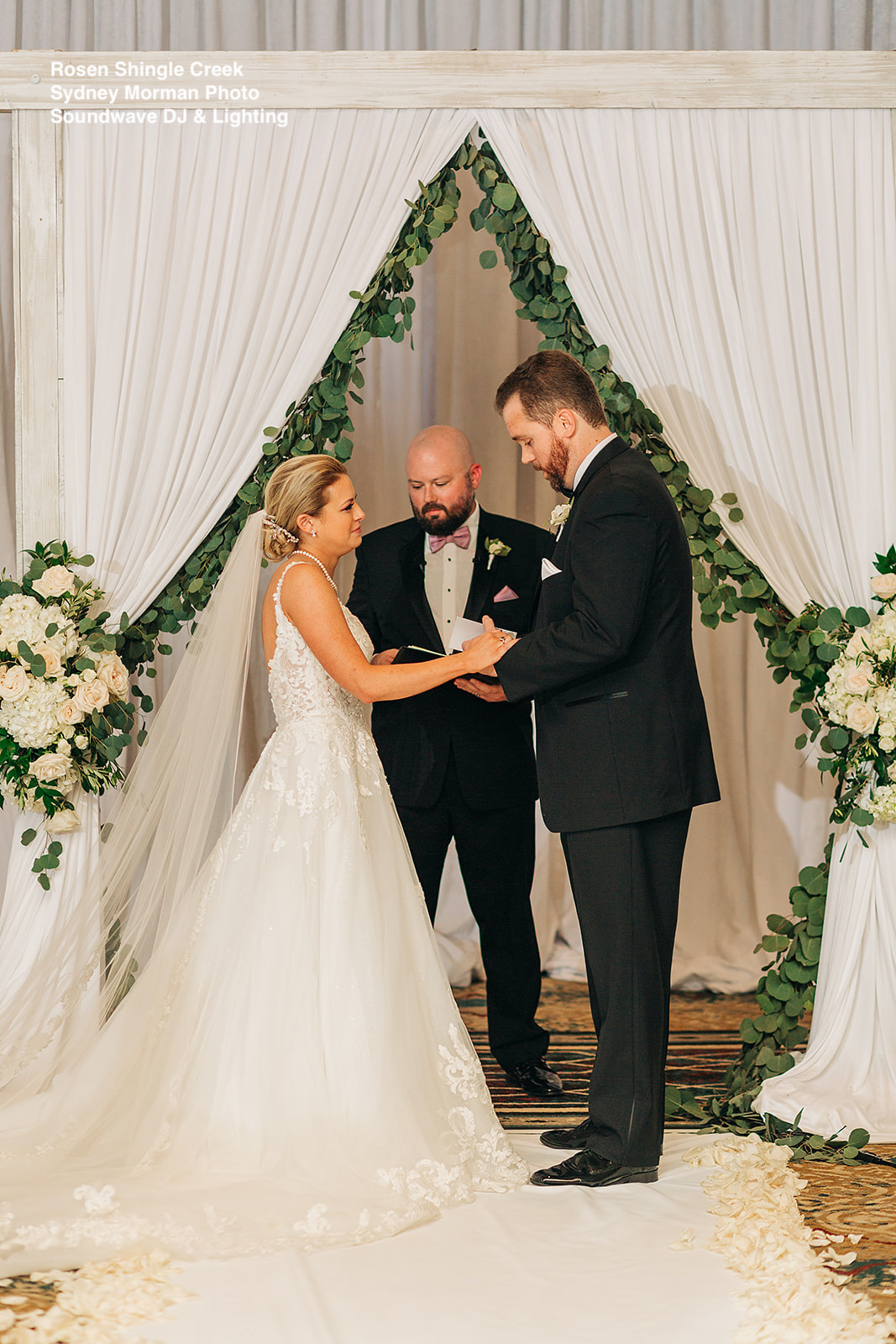 With a photo booth, fantastic songs, and party props on the dance floor, Jessica and Alex's wedding at Rosen Shingle Creek, July 17, 2021, was an event to remember! Rosen Shingle Creek Resort is located in beautiful Orlando, Florida.  This luxury resort is a favorite choice for many couples on their big day. Jessica and Alex decorated the area with sweeping florals, white linen, and soft touches of lavender lighting.
Every wedding is very special to Soundwave, but in this case, the bride is in the wedding industry and is a professional wedding planner with Just Marry.  We are always humbled when a fellow colleague turns to us to help make their dreams come true.
The ceremony was an intimate affair: the event was unplugged, live music flowed through the space, and the officiant was a close friend to the bride and groom. As they exchanged custom vows, their faces were glowing with love. Not ones to stop the celebration after a traditional first kiss, Jessica and Alex said their vows and then shared a flirtatious second kiss as husband and wife while making their down the aisle.
The Orlando bride and groom hosted an exquisite reception where music and lighting set the mood for a grand entrance. Beautiful white linen tables for both the newlywed table and the cake were lit with centerpiece pin spotlighting from Soundwave Entertainment. The dance floor was centered in the middle of the room, making it a focal point along with the 18 soft purple uplights that illuminated the space. Breathtaking floral arrangements with contemporary centerpiece designs from Raining Roses gave an exciting and welcoming feel.
Soundwave DJ Les Kopasz got the party started, playing "Party Up" by DMX and directing everyone's attention to the entrance of the wedding party! As the wedding party entered and it was time for the new husband and wife to take center stage, you could hear: "Ladies and gentlemen, please stand…as I am honored to introduce for the second time today, the newlyweds: Mr. and Mrs. Van Hide!"
Guests enjoyed a delicious plated dinner as DJ Les Kopasz played a custom-curated mix of 2000s Pop Instrumental Mix. The bride and groom shared their first dance to "You Are In Love" by Taylor Swift. Halfway through the song, DJ Les Kopasz invited guests to join the couple in their first slow dance as husband and wife.
After dinner, guests flooded the dance floor and spent the evening dancing the night away with foam glow sticks, light-up glasses, and glowing props! As the night wound down, DJ Les Kopasz announced that the newlyweds would meet them for the after-party as everyone was ushered out of the ballroom. Alone for a brief moment, the bride and groom shared one final dance in private to "Lover" by Taylor Swift. While they gazed at one another, the wedding at Rosen Shingle Creek ended exactly how it started: with the couple just glowing.
Venue: Rosen Shingle Creek 
Coordinator: Just Marry, Mairead Murray
Floral: Raining Roses 
Photo: Sydney Morman
Cake: Provided by hotel
Soundwave DJ / MC:  Les Kopasz
Soundwave Lighting & Design, and Options:
3 Pin spotlights for bride and groom table, and cake table
Dance Lights
18 LED Wall Uplights in soft purple
Digital Photo Booth
Recessional: Live instrumental music
Introduction: Party Up, DMX
First Dance: You Are In Love, Taylor Swift
Mother Son: Simple Man, Lynyrd Skynyrd
Last Dance With Guests: Always Be My Baby, Mariah Carey