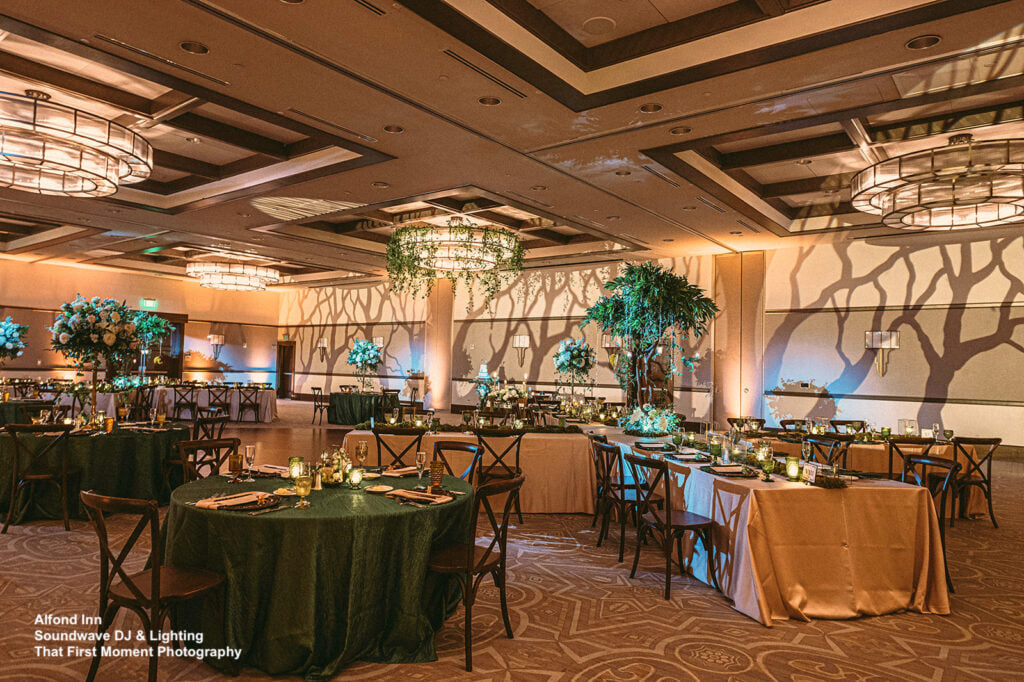 The Alfond Inn, nestled in the heart of Winter Park, was transformed into a green wonderland for the enchanted forest wedding of Matilda and Sean. Soundwave provided DJ and extensive LED Lighting Design to bring the bride and groom's vision to life.  We worked closely with Wedding Planner, Pavone Events, and Raining Roses, florist, to create this fairytale reception.
A gentle abundance of soft, romantic LED Wall Uplighting set the stage for these two lovebirds. The focal point of the Lighting Design was Wall Texturing.  The Wall Texturing is how we illuminated the tree / forest design on the main focal wall.  To illuminate trees on the entire wall, we used 3 high powered LED projection machines with "forest" gobos.  Additionally, the oversized centerpiece trees and floral were illuminated with LED lights. Twenty-four Wall Uplights in candlelight color gave the room a sweeping glow.
Soundwave Owner DJ Les Kopasz kicked off the reception by introducing the wedding party to "Jump In The Line" by Harry Belafonte. The newlyweds then danced to "A Thousand Years (ft Evynne Hollens and Lindsey Stirling)" by Peter Hollens. 
DJ Les played a custom list of Celtic music as the guests enjoyed their dinner. The guests enjoyed the Newlywed Game, featuring a host of questions about Matilda and Sean. Afterward, the bride and groom cut the cake to Eat It by Weird Al.
Guests hit the dance floor for a high-energy mix of Alternative, Disco/Funk, 70's rock, and throwback '80s-'90s. The night came to a close with the lights dimming and the aptly-titled Closing Time by Semisonic. Then, guests escorted the bride and groom outside for a final goodbye under the stars, closing the evening on this Celtic-inspired, enchanted forest wedding at the Alfond Inn.

Soundwave DJ / MC:
Owner Les Kopasz 
Soundwave Lighting & Design, and Options:
24 LED Uplights
Wall Texturing
Pinspots for Floral, Cake and Newlywed Table
Illuminated Designer DJ Front Board
Dance Lights
Introduction: Jump In The Line by Harry Belafonte
First Dance: A Thousand Years (ft Evynne Hollens and Lindsey Stirling) by Peter Hollens
Last Dance With Guests: Closing Time by Semisonic
Venue: The Alfond Inn
Coordinator:  Pavone Events
Floral: Raining Roses
Photo: That First Moment
Cake: Sprinkles