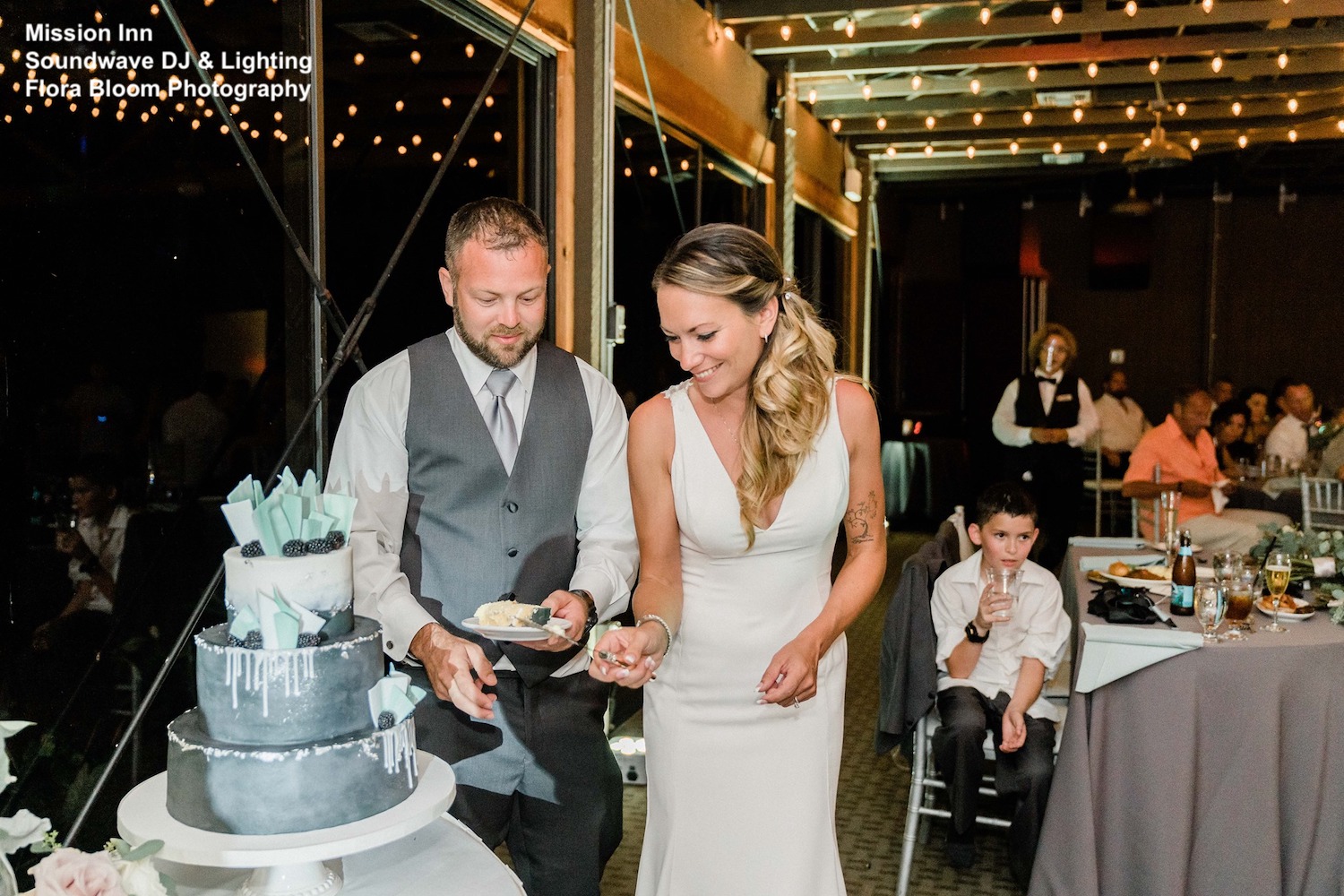 Setting the Stage for a Wedding at the Mission Inn Resort
Marissa and Adam's September 5, 2021, wedding was held at the Marina Del Ray at Mission Inn Resort and Club. Located just outside of Orlando, the Mission Inn Resort offers three unique wedding venue options, including the stunning Marina Del Ray. Marissa and Adam held the ceremony of their fall Orlando wedding outside, with the season's natural setting playing perfectly off of the waterfront. A gentle breeze moved with the bride as she walked down the aisle to her groom. Leaves in the trees above swayed quietly against the music. And within the magic of the natural setting, Soundwave's DJ Dennis Michael made sure that the music and the officiant's subtle lavaliere microphone only added to the natural setting, never distracting from the special moment. 
Cocktails and Classics 
After our bride and groom exchanged their vows and walked back up the aisle as husband and wife, it was time to celebrate. The evening began with guests sipping cocktails and mingling, all while enjoying a vocalist mix of songs from DJ Dennis Michael. As the cocktail hour wound down, DJ Dennis Michael ushered guests into the reception space for the much-anticipated introduction of the wedding party and the newlyweds. Uptown Funk by Bruno Mars played as Marissa and Adam were formally introduced as husband and wife. After the guests settled into their seats, the couple shared a sweet first dance to  I Won't Give Up by Jason Mraz.
A Night to Remember
The reception space was beautifully decorated with cool neutrals and soft gold accents. We provided LED Wall Uplights in a soft green color, highlighting the natural outdoor ambiance. Guests celebrated the newlyweds with toasts, parent dances, and a three-tier cake from Sugar Sugar Cake Boutique – coupled with a perfectly-placed LED Pinspot supplied by Soundwave to illuminate the cake.
Sparkling Skies and Goodbyes at This Fall Orlando Wedding
The conversations and laughter carried on through the night. Soundwave DJ Dennis Micheal kicked the party into high gear with '90s throwbacks, current pop favorites, and crowd-pleasers. Everyone was on their feet throughout the night! The bride and groom really kept the party going and the dance floor packed. Guests of all ages danced late into the night. Closing out the evening, DJ Dennis Michael played Don't Stop Believing by Journey as requested by the newlyweds. As the last notes faded, guests gathered outside to grab some  sparklers as they cheered and bid farewell to the glowing couple!
Venue: Mission Inn Resort and Clubatelier
Coordinator: Bella Sposa Events
Photo: Flora Bloom Photography
Cake: Sugar Sugar Cake Boutique
Florist: Le Fleur Atelier
Soundwave DJ / MC: DJ Dennis Michael 
Soundwave Lighting & Design, and Options:
Cake Pinspot
LED Wall Uplights
Dance lights
Processional: Memories (violin cover, ItsAMoney)
Bride Entrance: I Don't Want to Miss a Thing (violin cover, Javier Rodriguez)
Recessional: Happy (Pharrell Williams)
Introduction: Uptown Funk, Bruno Mars
First Dance: I Won't Give Up, Jason Mraz
Cake Cutting: Sugar, Maroon 5
Last Dance: Don't Stop Believing, Journey