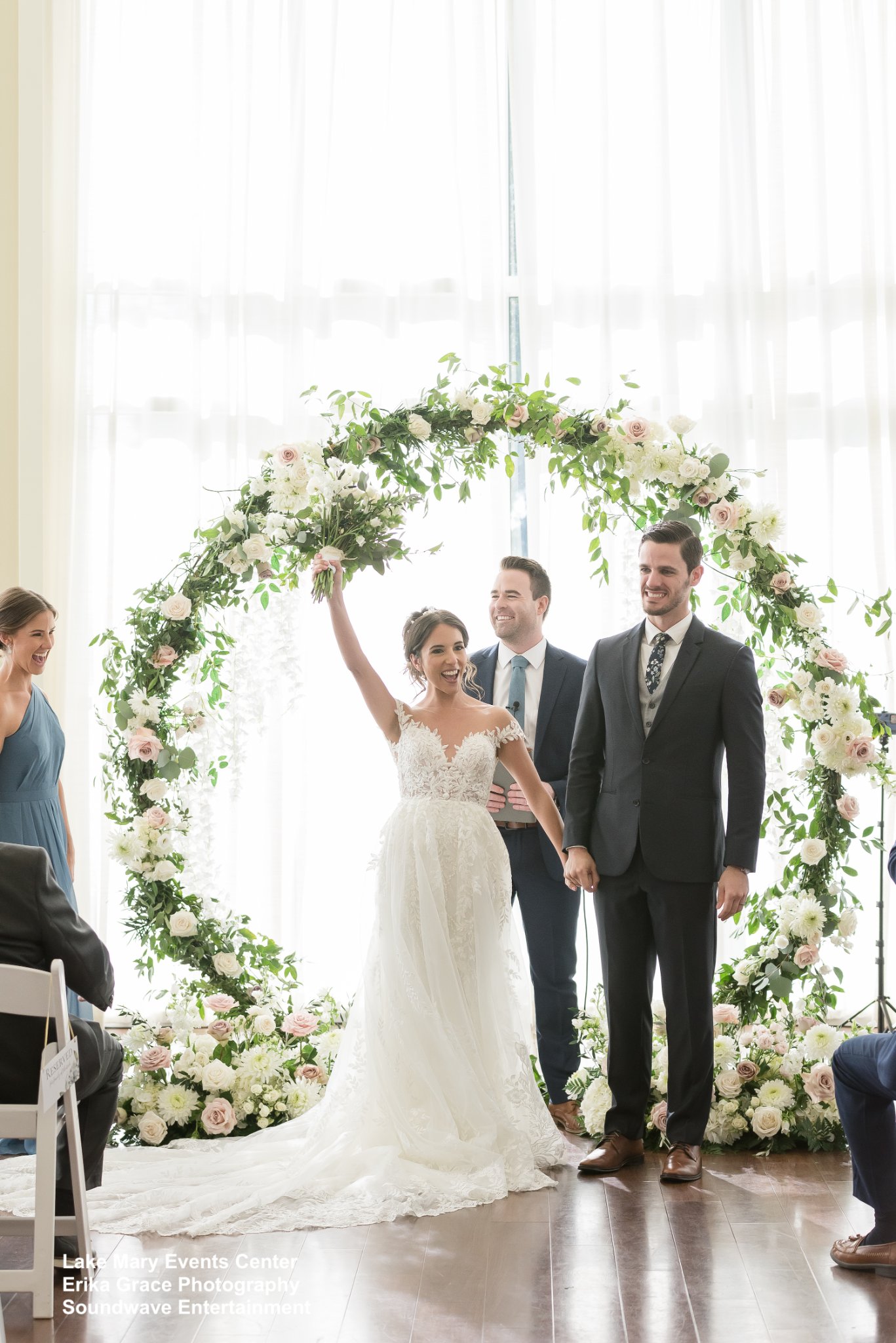 Geena and Mike's Central Florida wedding was a lovely and fun affair from beginning to end. Held on March 26, 2022, their wedding at the Lake Mary Events Center featured plenty of opportunities for unique lighting designs from our experts at Soundwave. This is always a fun venue to transform and we were excited to return to one of our favorite stomping grounds.
Soft like the sky in lighting design
Geena and Mike opted for an intimate ceremony on their special day. Their ceremony space featured floor-to-ceiling windows and endless amounts of natural light. In the ballroom, we brought gentle color our LED lights, which illuminated the room in a quiet blue that reflected the wedding colors. Our Pinspots highlighted the newlywed table and the wedding cake. We also used the lighting design to frame the newlyweds' silver accents. From every detail, we complemented Geena and Mike's vision for their wedding at the Lake Mary Events Center.
Cool in blue
After the ceremony at the all-white floral trellis, it was time to get the party started. Soundwave Entertainment's DJ David Regueiro set the stage for a grand entrance into the ballroom. As guests took their seats, Raise Your Glass, by Pink kicked off the wedding party introductions and the reception.  DJ David introduced the newlyweds just before they shared their first dance as husband and wife to Lifetime, Justin Bieber.
When the bride becomes the DJ
As the night went on, guests enjoyed a few surprises from this fun bride and groom. At one point, the bride even took a turn behind the DJ booth! Geena was a natural at having fun on the mic and giving her friends and family some dance mixes. The laughter was contagious as the guests danced the night away. Celebrations ended with final final closing song of Don't Stop Believing, Journey. Then, it was time to really say "don't stop believing" in this magical evening with a sparkler sendoff for Geena and Mike.
Venue: Lake Mary Events Center
Coordinator: At Last Wedding and Event Design
Caterer: Puff N Stuff
Photo: Erika Grace Photography
Florist: In Bloom Florist
Soundwave DJ / MC: David Regueiro
Soundwave Lighting & Design, and Options:
3 Pinspots: 1 for Cake, 2 for Newlywed Table
18 LED Lights: Soft Blue Color
Processional: Love me like you do, Brooklyn Duo
Bride & Escort: Lover, instrumental by Edward Ong…cue to 1:51
Recessional: Latch, cover by Natalie Taylor…cue to 1:56
Introduction: Raise Your Glass, Pink
First Dance: Lifetime, Justin Bieber
Bride & Dad: Dance With My Daughter, Jason Blaine
Groom & Mom: Days Like This, Van Morrison
Last Dance: Don't Stop Believing, Journey