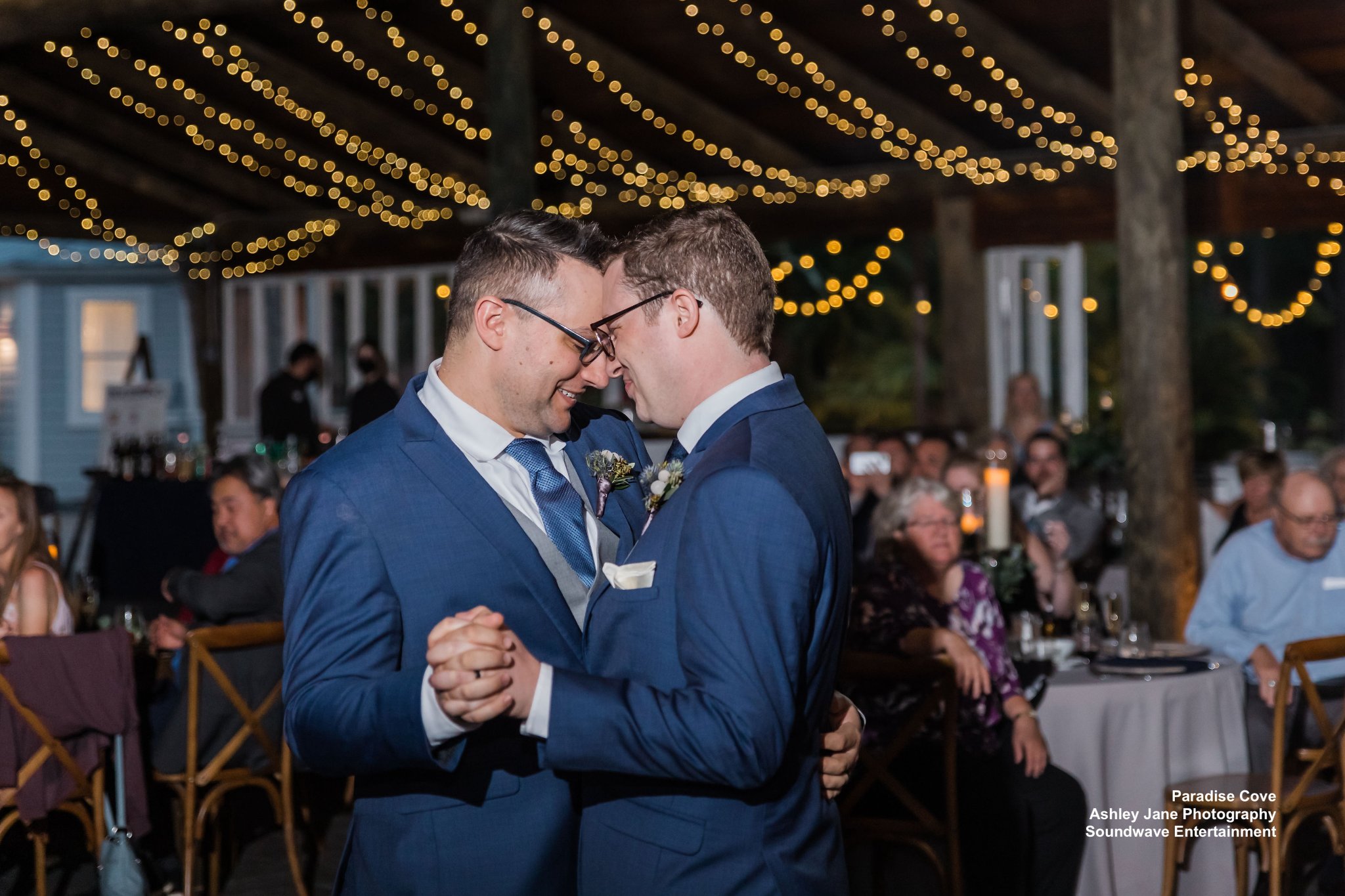 John and Adam's handsome tropical wedding took place at Paradise Cove.  The grooms' celebration was nothing short of fun from beginning to end. They truly made March 7, 2022 a memorable night for all of their guests. From the ceremony to the grooms' exit, we were ready to create the party atmosphere that they wanted.
Tropical Ceremony
The groom's selected each song for the ceremony including prelude songs.  An assortment of piano covers by The Piano Guys set the mood for their tropical union.
Getting the Party Started 
The Groom's made their grand entrance into the Key West styled pavilion at Paradise Cove.  They danced to Love Like This by Ben Rector.  John and Adam then welcomed their guests to their tropical celebration before a fabulous meal by Arthurs Catering.
Everyone on the Dance Floor 
Once the guests' bellies and hearts were full, it was time to get everyone on the dance floor. Soundwave DJ Les Kopasz played throwbacks from the 80s to the 2000s and mixed them to really pump up the crowd.  The grooms and guests danced the night away until it was time to say goodnight. And of course, there was no better song to end the night with other than Bye Bye Bye by NSync! Congratulations to John and Adam on your special day, we loved celebrating it with you!

Soundwave DJ / MC:
DJ/MC Owner Les Kopasz
Soundwave Lighting & Design, and Options:
Dance Lights
18 LED Lights in soft blue and deeper blue
Spark Fountains
Illuminated DJ Front Board
Processional: A Thousand Years, Piano Guys
Recessional: Happily Ever After, Jordan Fisher
Introduction: Never Ending Story, Stranger Things version
First Dance: Love Like This, Ben Rector
Dance with Moms: How Does a Moment Last Forever, Celine Dion
Last Song with Guests: Bye Bye Bye, N*Sync
Venue: Paradise Cove
Coordinator: The Chaos Coordinator
Floral: Flowers by Lesley
Photography: Ashley Jane Photography
Videography: Omarvelous Productions
Caterer: Arthur's Catering
Cake: Bakers Cottage Cakes