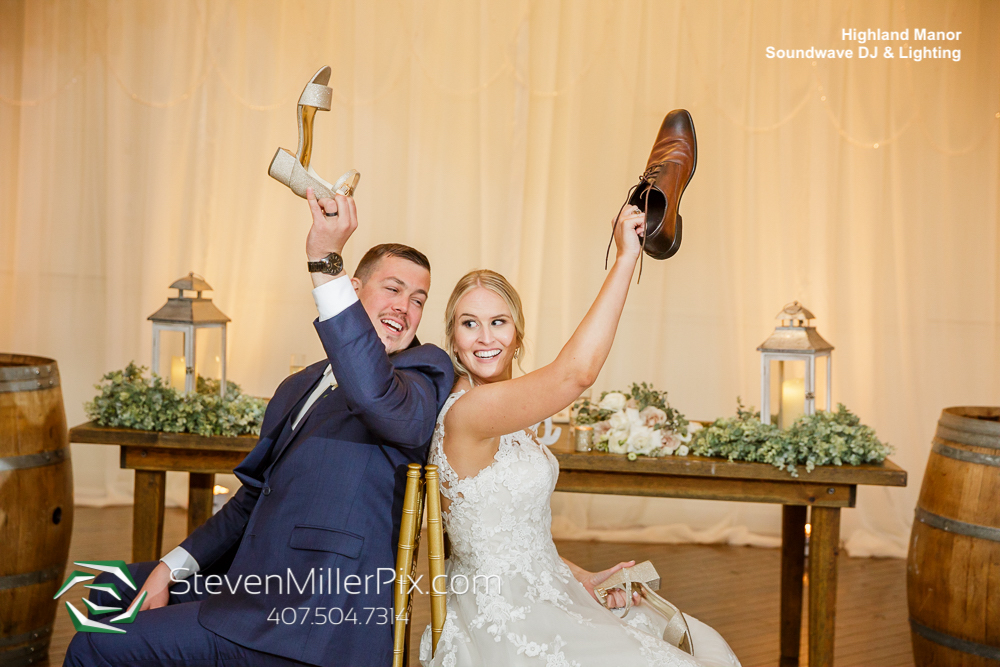 Like many couples who were set to have a wedding in 2020, couple Jordan & Kyle Rozankowski opted to get married first and party later. They celebrated their marriage with friends and family during a beautiful ceremony and reception held at the exquisite Highland Manor in Apopka, Florida. One of Central Florida's premiere event venues, Highland Manor boasts scenic vistas, mature oak trees and oozes with southern charm. Once a grand private home, the venue provides picture perfect locations for both indoor and outdoor events. Catering at Highland is provided exclusively by Dubsdread Catering, one of Orlando's finest long-standing catering companies.
The couple exchanged vows under the majestic towering oak tree on the lawn. Escorted by her father, bride Jordan was beaming as she walked down the aisle to "A Thousand Years" by The Piano Guys. Surrounded by sixty of their closest friends and family, the couple publicly declared their love for one another in a heartfelt recommitment of their vows.
Cocktail hour followed in the pre-function area. A Disney vocalist mix played in the background as guests sipped and mingled. Shortly after, DJ Justin assembled guests in the ballroom for introductions. The ballroom was decorated with stunning gold chivari chairs and accents. We uplit the walls with a candle light color, which created a sophisticated and inviting atmosphere. All eyes were on the Mr. and Mrs. as they shared their first dance to "Never Stop" by Safety Suit.
The couple put their knowledge of one another to the test as DJ Justin Coulter surprised them with a side-splitting round of "The Newlywed Game." The evening was rounded out with a delicious buffet catered by Dubsdread Catering, as well as cake cutting, special mother/son and father/daughter dances and the garter and bouquet toss.
One of the highlights of the evening was a planned proposal by Jordan's sister's boyfriend. Just before the bouquet toss, Jordan instead turned and handed the bouquet to her sister. At just that moment the boyfriend proposed! "Better Together" by Jack Johnson played as the newly engaged couple shared a short dance together.
Mr. and Mrs. Rozankowski enjoyed their last dance with guests to "Time of My Life" from Dirty Dancing. As guests headed to the front porch, the couple savored a quiet moment alone as they danced to "I Don't Want to Miss A Thing" by Aerosmith for their private last dance. Family and friends blew bubbles as they bid farewell to the couple, perfectly capping off this elegant Highland Manor wedding.
Soundwave DJ / MC:
DJ/MC Manager Justin Coulter, aka DJ Colt
Soundwave Lighting & Design, and Options:
Dance Lights
18 Wall Uplights in the color candle light/warm glow
Cake Pinspot
Processional: Cannon in D, Randi Rokke
Bride:  A Thousand Years, The Piano Guys
Recessional: This Is It, Scotty McCreery
Introduction: Feel So Close, Calvin Harris
First Dance: Never Stop, Safety Suit
Father Daughter: I Loved Her First, Heartland
Mother Son: Humble and Kind, Tim McGraw
Last Dance With Guests: Time of My Life, Dirty Dancing
Private Last Dance: I Don't Want to Miss A Thing, Aerosmith
Venue: Highland Manor
Caterer: Dubsdread Catering
Floral: The Coffee Garden
Photo: Steven Miller Photography
Video: Live Happy Studio
Cake:  Aunt Gingibreads