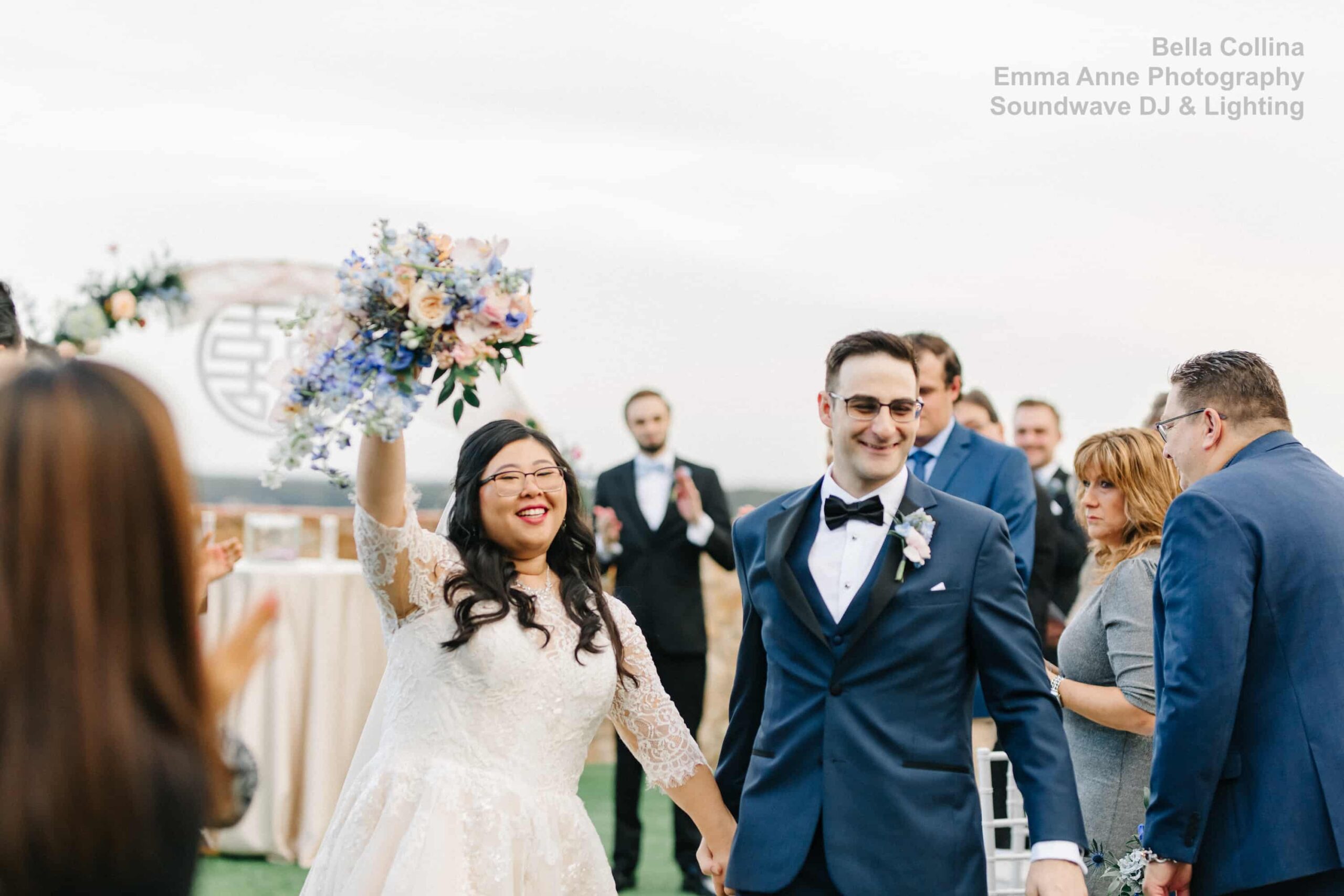 Shani and Matthew's icy blue wedding at Bella Collina warmed our hearts. On December 8, 2021 we helped these newlyweds celebrate in grand style. Our lighting options created a perfect balance of intimate warmth and winter hues. And our very own DJ and Owner Les Kopasz, spun out the best tunes for a mix that was not too hot and not too cold.
Outdoor Ceremony
First, the wedding began with A River Flows in You, by Yiruma as the wedding party glided to their places. Next, the bride walked down the aisle to a gorgeous classic, Canon in D, by Brooklyn Duo.  Among family and friends, Shani and Matthew said "I do" after exchanging hand-written vows. They stood beneath a decorative arch, decorated in greenery and blooms of soft pastels, draped in wintery shades of ice blue, all to echo Shani's stunning bouquet. After they exchanged their vows, All of Me, by Daniel Jang played to cheer the newlyweds back up the aisle towards their new future. Next, guests partook in cocktail hour at the Bella Collina Reflection Pool, enlivened by a custom 2000s Pop Instrumental Mix.
Reception Lighting and Design
Peeking into Bella Collina's ballroom, we saw the same color schemes to perfectly compliment the icy blue wedding palette. Soft pastels and wintery hues once again thoughtfully displayed among the decor.  Soundwave set up 24 LED Wall Uplights in very soft icy blue. Second, our pinspot lights shown on the newlywed table and the cake table. Pinspot lights help draw attention and focus, and it was all eyes on the bride and groom! The Designer DJ Front Board in Walnut tied the image together with elegance.
Raise a Glass to the Bride and Groom
Happy guests filtered in and found their seats. DJ Les introduced the couples while Happy, by Pharrell Williams played. Finally, the new Mr. and Mrs. Mattera were announced and guests clapped and cheered. The happy couple shared a romantic moment during their first dance to "Truly Madly Deeply" by Savage Garden. Next, Matthew hopped on the mic to welcome their guests. Then, each of their fathers took turns giving a heart-felt toast. The best man and co-maids of honor finished off the toasts, and everyone drank to the newlyweds' future together. Sugar Pie Honey Bunch, by Four Tops set the playful vibe as the couple ceremoniously cut into their wedding cake. Just when we thought we were done with the tears, the groom danced with his mother to My Wish by Rascal Flatts and the bride danced with her father to You Raise Me Up by Celtic Woman.
Time to Celebrate
Finally, one of our personal favorite moments began. Dimming the lights always seems to be the universal signal for "time to turn it up" – and we love it! DJ Les took full advantage of his time to shine, playing a perfectly curated mix specifically for the Matteras.  The bride and groom requested a slightly reserved vibe, and we delivered. Classic disco, 70's – 80's rock and hairbands, 80's – 90's throwbacks, early 2000s hits, and current chart toppers spun all night. Songs like Shivers, by Ed Sheeran; You and I, by John Legend; Killing Me Softly, by Joseph Vincent, and of course Can't Help Falling in Love, by none other than Elvis Presley wrapped us all up in the energy of the night.
Saying Goodbye
Matthew and Shani requested Best Day of My Life, by American Authors as the second-to-last song. Full of that feeling of wanting to make the most of every special moment, everyone piled to the dance floor for one last song. Living on a Prayer, by Bon Jovi carried us off into the night.  As the guests exited the ballroom, they made their way to the valet area for a grand farewell with sparklers.   During this time, once the ballroom was totally empty,  Matt and Shani had one last private dance together to You are the Reason, by Calum Scott and Leona Lewis. Lastly, the newlyweds appeared at the exit and ran joyfully down one last aisle, yet again. The crowd of smiling, cheering faces and sparkling lights sent Matthew and Shani Mattera off into the night to begin their new future together. What a beautiful evening!
Venue: Bella Collina
Coordinator: At Last Events
Photography: Emma Anne Photography
Florist: In Bloom Florist
Soundwave DJ / MC: DJ Les Kopasz
Soundwave LED Lighting Design & Options
Designer DJ Front Board in walnut
24 Uplights in very soft blue
3 Pinspots (1 Cake, 2 Newlywed Table)
Dance Lights
Processional: River Flows in You, Yiruma
Bride Entrance: Canon in D, Brooklyn Duo
Sand Ceremony: Just the Way You Are Instrumental, Mikihito Tanaka
Recessional: All of Me, Daniel Jang
Introduction: Happy, Pharrell Williams
First Dance: Truly Madly Deeply, Savage Garden
Last Dance: Living on a Prayer, Bon Jovi