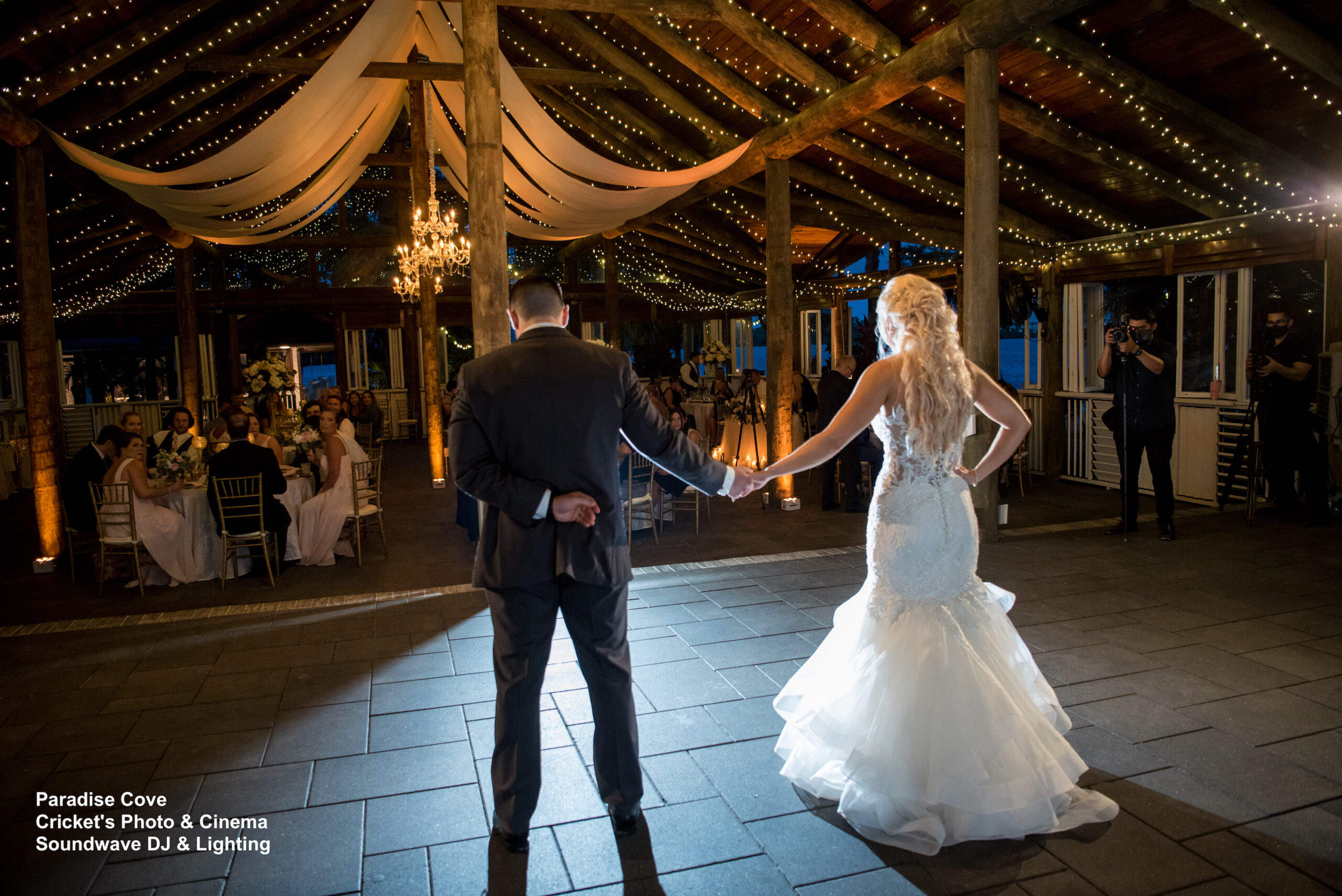 This lakeside wedding at Paradise Cove was an elegant affair, with soft pink florals and gold accents creating a romantic setting. The romantic island vibe of Paradise Cove in Central Florida was the perfect backdrop for Amber and William's September 10, 2021, wedding. Set against acres of lush Floridian foliage, Paradise Cove is a slice of Key West right here in in Orlando, literally minutes from Disney Springs.
Amber and William added creative touches throughout their own ceremony, with white florals cascading over a ceremonial hoop from Atmospheres. The officiant, Rev. Glynn Ferguson with Sensational Ceremonies, delivered a heartwarming ceremony with the bride and groom choosing two readings and live soft music as the natural sounds from the cove echoed in. A lavaliere microphone by Soundwave Entertainment ensured that friends and family could listen to the heartfelt dedication. The guests cheered as the couple shared a sweet first kiss as husband and wife, and the couple exited down a stunning white silky aisle to the cocktail gathering. There, guests were invited to take photos in the Soundwave Digital Photo Booth, complete with gold backdrop and props. It was the perfect start to this starlight wedding in Paradise.
The reception began with introductions by Soundwave DJ David Regueiro, and he set the excitement for the bride and groom's entrance. The newlyweds entered through a custom ribbon to Circle of Life by Carmen. As they began their first dance as husband and wife – set to Never Stop by Safetysuit – they were surrounded by gold and linen accents that added to the natural beauty of the twinkling lights and chandeliers. Gold chivari chairs, classic and beautiful white accents, candles, and romantic florals added a layer of warmth and elegance to the room.
Guests hit the dance floor, making requests for their favorite current hits and enjoying the photo booth. It was a real treat to have the traditional removal of the garter from Amber and William and a playful first bite of the decadent cake from Sugar Sugar Cake. 
The night was full of dancing and photo booth fun as the guest made requests for their favorite songs, with everyone singing along and laughing the night away. Guests gathered around for one final dance to the upbeat song Mr. Brightside by the Killers, and then they were asked to escort the bride and groom for a final farewell with bubbles at the dock. A gentle breeze from the Florida lakeside floated around the newlyweds as they made a grand exit in true paradise cove fashion: hopping into the ski boat under the moonlit sky, giving their last send-off to their wedding at Paradise Cove.
Soundwave DJ / MC: DJ David Regueiro 
Soundwave Options:
Digital Photo Booth
18 LED Lights in warm candle light glow
Cake Pinspot
Introduction: Circle of Life, Carmen 
First Dance: Never Stop, Safetysuit
Last Dance With Guests: Mr. Brightside, The Killers
Venue: Paradise Cove
Caterer: Cocktails and Catering
Officiant: Rev. Glynn Ferguson, Sensational Ceremonies
Floral: Atmospheres Floral and Decor
Photo: Cricket's Photo and Cinema 
Cake: Sugar Sugar Custom Cake Boutique
Video: Dana Lynn Photography