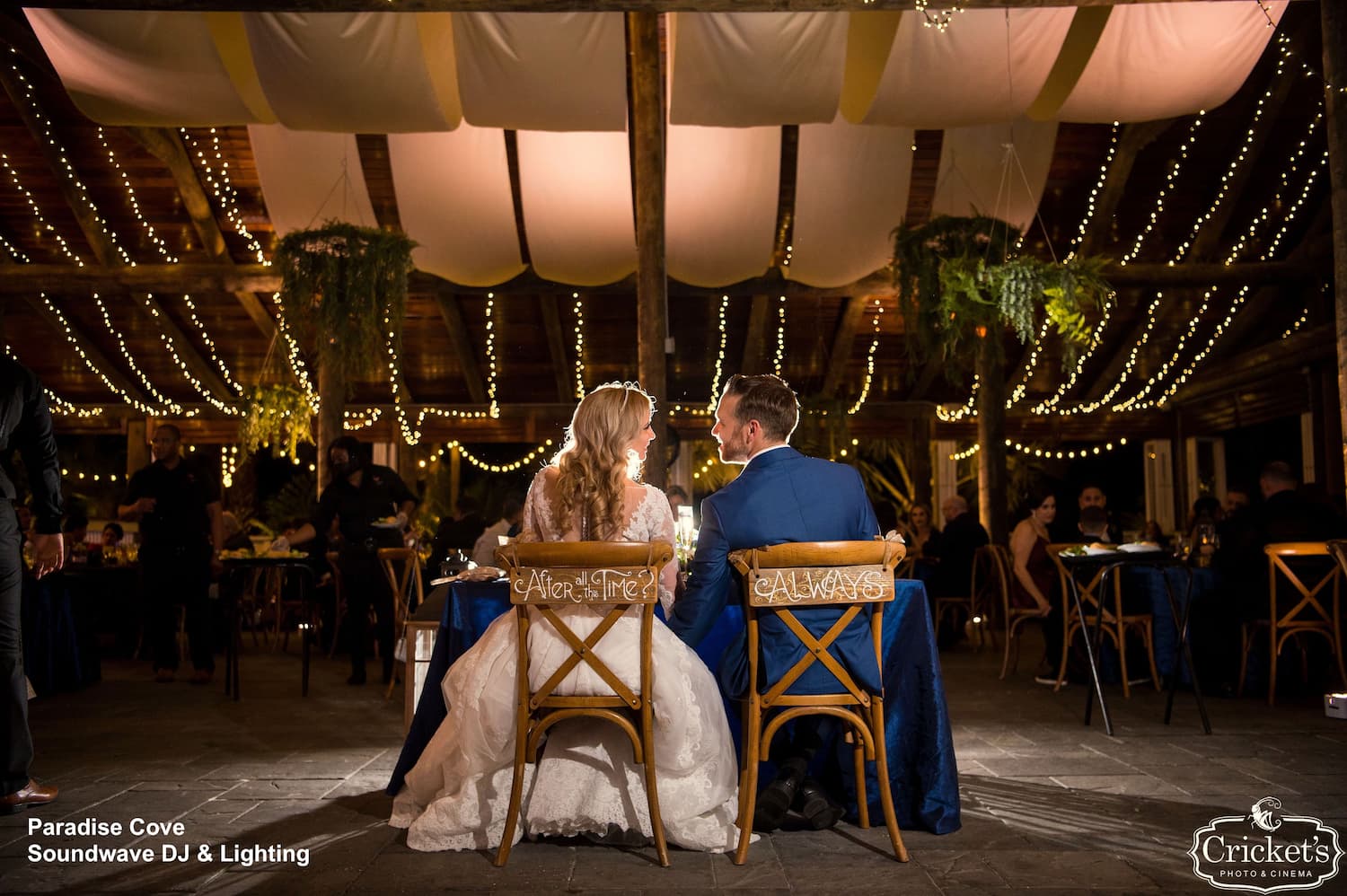 On December 27, 2021, just a few days after Christmas, Cary and David said "I Do" at Paradise Cove, Orlando, with all of the personal touches you'd want in a Magical Winter Wedding. Complete with whimsical Disney Instrumental music and Harry Potter themes throughout, it was a night to remember.
The Outdoor Ceremony
First, a harpist welcomed the guests in with warm, inviting melodies. Next, like a scene from your favorite action movie, "The Final Countdown" by Europe interjected as the groom and his groomsmen pulled up in a speed boat. After their arrival, the harpist resumed the ceremony soundtrack for the bridesmaids, the bride, and the recessional. We loved the view at the altar with the tall trees, hanging Spanish moss, and lakeside background. Don't forget, outdoor doesn't have to mean bad acoustics! Thanks to our ceremony speaker system and the lavaliere microphone worn by the officiant, guests heard the vows loud and clear.
Time to Celebrate
Afterward, we moved underneath the pavilion, lit up with twinkle lights as far as the eye could see. The ambiance was truly perfect for a magical winter wedding. The sweetheart table had quotes from Harry Potter and his and hers magic wands. No doubt that Ollivander himself couldn't have picked a more perfect setting to suit our bride and groom! They shared their first dance to "The Way You Look Tonight" by Tony Bennett. Next, our reception system of speakers and microphones allowed for flawless speeches from both the maid of honor and best man.
While we might not have actual floating candles like at Hogwarts, we did bring some magic of our own with Soundwave LED Lighting. Thoughtfully placed around the reception, each one gave off a candlelit, ethereal glow. In the background, 4 LED Lights amped up the winter vibes with blue tones on the trees. And we can't forget the cake! But how could you, when it's lit up with our cake spot light? Music and lighting to fit the mood, plus good food, made for a dazzling and memorable magical winter wedding. If that wasn't magical enough, the plated meal was enjoyed during a custom Disney Instrumental Mix from our own DJ / MC Ray Vales. Afterward, the cake cutting was to "Hedwig's Theme" by John Williams from Harry Potter. The music was just perfect to make our Potterhead bride and groom dreams come true!
Get Your Groove On
Regardless of your favorite part of weddings, when that bass starts pumping, and our dance lights start poppin, you start dancing! DJ/ MC Ray Vales delivered a mix of 60-80's rock, country, Latin vibes with salsa and merengue, and 90's-2000's Pop and Hip Hop. Tons of crowd participation favorites kept us on our toes with classics like "Cupid Shuffle," "Electric Slide," "Cha Cha Slide," and "Shout." Special requests from the bride and groom included hits like "Shake Your Body" by Michael Jackson, "Right Thurr" by Chingy, "Lean Wit It, Rock Wit It" by Dem Franchise Boyz, and even "Fat Lip" by Sum 41.
Among all the dancing was another crowd favorite: our Digital Photo Booth! It captured magical moments from guests and texted the pictures instantly. What a great way to break up the evening while keeping the energy high! Also, the prop table provided extra laughs for each shot.
Send Off
DJ Ray Vales made the last call for dancing, and everyone gave it their all to "Never Gonna Give You Up" by none other than Rick Astley. What a great night! Guests gathered their belongings and headed to the exit. The new Mr. and Mrs. Valdes shared one last Harry Potter tribute moment with their wands to seal their Magical Winter wedding. The bride and groom waved goodbye to their friends and family as a symbolic cascade of bubbles and good fortune rained down. And the day ended just as it started, with a speed boat zooming off into the horizon. Congratulations, Cary and David! May all your dreams come true.
Soundwave DJ / MC:
DJ Ray Vales
Soundwave LED Lighting Design & Options
Cake Pinspot
12 LED Lights mix of blue on trees and candle light at dining area
Digital Photo Booth
Venue: Paradise Cove
Coordinator: Jasmine Gil
Caterer: Cocktails Catering
Photography/Videography: Cricket's Photo & Cinema
Cake: Sugar Sugar Cake Boutique
Florist: Atmospheres Floral and Décor