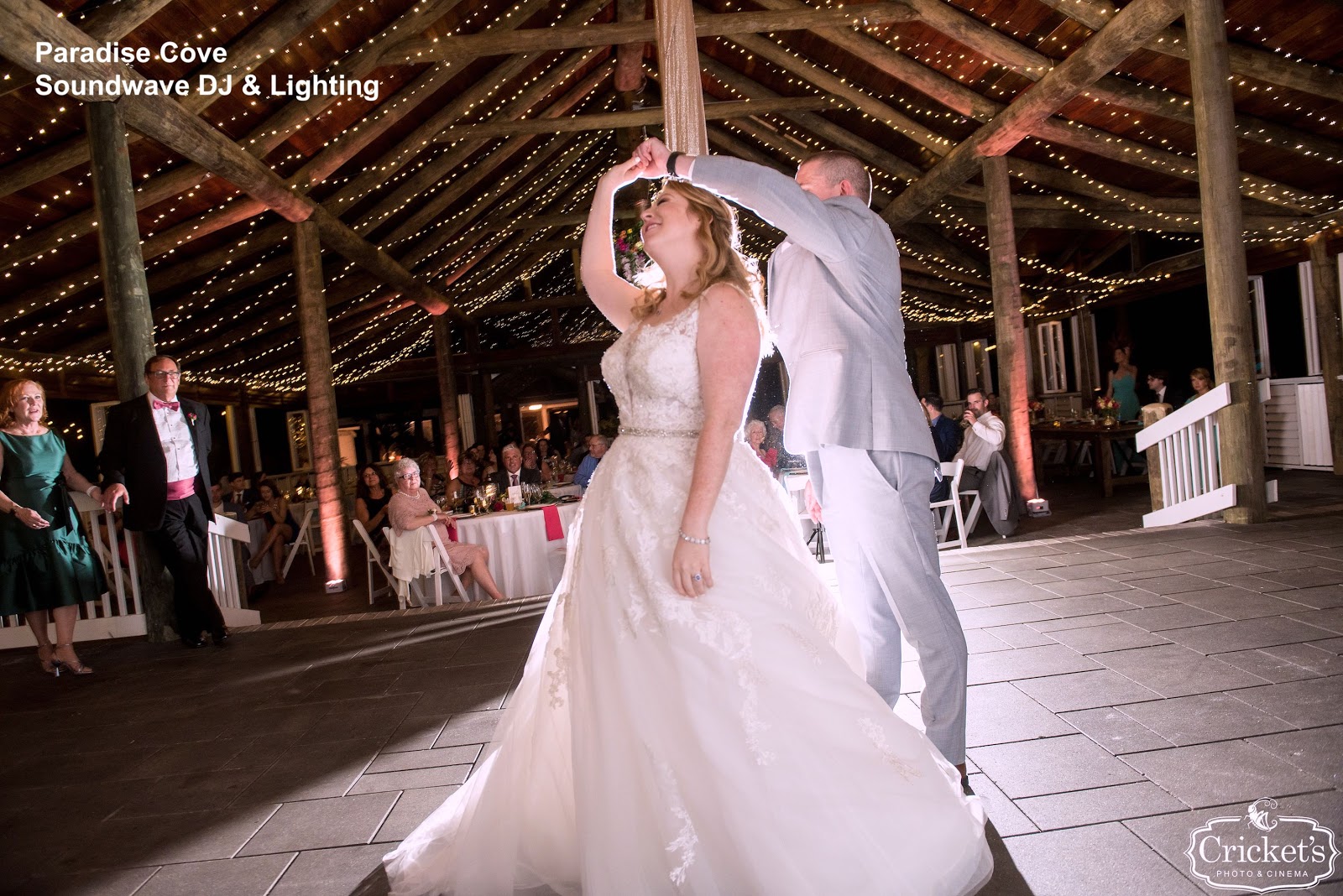 Karl & Lauren exchanged wedding vows beside the water at the beautiful Paradise Cove in Orlando, Florida. If you are not familiar with this Orlando wedding venue, Paradise Cove is a tropical inspired getaway that is one of a kind in Orlando! No other wedding venue in Orlando offers lakeside views, swaying palm trees, cypress trees draped in moss, sandy beach and a Key West style pavilion.
The couples' January 22, 2021, wedding was an opportunity for guests to shed the winter season and fully immerse themselves in the tropical Florida vibe. We carried a vibrant color palette of aqua and hot pink from the ceremony to reception space, from the palm tree uplighting to the brilliant floral arrangements by Atmosphere Florals.
Following the ceremony, Cocktail hour was hosted lakeside. Guests felt as though they had been whisked away on a tropical vacation as they sipped drinks from the tiki bar beneath palm trees we light with aqua spotlights. Under the cover of twinkle lights in the beautiful outdoor cabana, we introduced Mr. & Mrs. Karl & Lauren Cummer as husband and wife. Then they shared their first dance to Eyes on You by Chase Rice. Everyone enjoyed a delicious buffet dinner provided by Cocktails Catering, dancing and photobooth fun!
Finally, guests joined the bride and groom on the dock for a bubbly send off under the night sky. In true Florida fashion, the bride & groom boarded a boat and waved goodbye to guests as they cruised off into the night.
Vendors
Soundwave DJ / MC:
DJ/MC Owner Les Kopasz
Soundwave Lighting & Design, and Options:
1 Cake Pinspot
4 Uplights for the trees in aqua color8 Uplights in the dining area in soft pink
Processional: Love, Imaginary Future
Bride & Escort: Love Me Tender, Elvis Presley
Recessional: High Hopes, Panic at the Disco
DJ Welcome & Introductions: Crazy in Love, Beyonce and Jay Z
First Dance: Eyes on You, Chase Rice
Bride & Dad: Butterfly Kisses, Bob Carlisle
Groom & Mom: You'll Be In My Heart, Phil Collins
Last Dance: I'm So Tired, by Lauv, Troye Sivan
Private Last Dance: I Do Cherish You, 98 Degrees
Coordinator: Paradise Cove
Officiant: Family member
Caterer: Cocktails Catering
Photo: Cricket's Photo
Florist: Atmospheres Floral & Decor
Video: Cricket's Photo