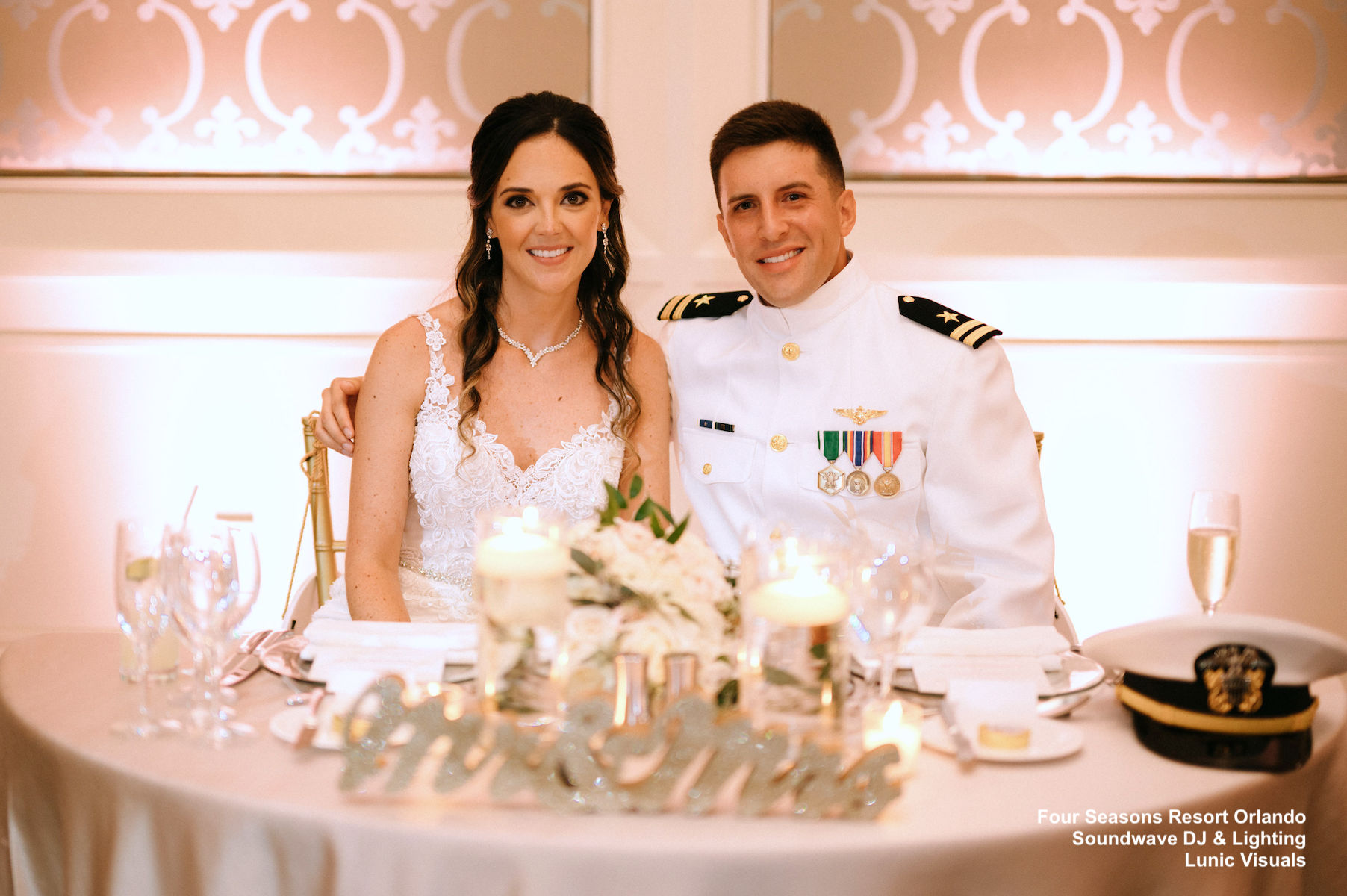 A Picturesque Wedding at Four Seasons Resort Orlando
A picturesque setting at the Four Seasons Resort Orlando Walt Disney World made for a beautiful wedding on September 5, 2021, for Zaneta and Chris. The bride and groom choose the King Lawn location of the resort for exchanging their vows, with cypress trees all nestled within a secluded lakeside setting. As guests arrived and were seated under swaying palms, Soundwave DJ Ray Vales played a  selection of prelude music before announcing that the ceremony was about to begin. Beautiful in White Canon in D by Riyandi Kusuma played as the stunning bride proceeded down the King Lawn to her groom, who wore his dress white uniform to reflect his service for the United States Airforce. The couple recited their vows before saying "I do,"and it was all sealed with their first kiss as husband and wife.  
Intimate Indoor Cocktails 
As the wedding guests moved indoors for cocktails, a Deep House Vocalist mix played was played by Soundwave Entertainment. With close friends and family gathered, it was an intimate and heartwarming celebration. Finally, DJ Ray ushered guests into the reception space for the much-anticipated introduction of the wedding party and the newlyweds.
White Wedding Dress and Matching Airforce Uniform 
The elegance of the Four Seasons Palm Ballroom is hallmarked by floor-to-ceiling windows and stunning chandeliers.  Soundwave provided an elegant LED Lighting Design that included 24 Wall Uplights in very soft pink, Pinpspotting on the Newlywed Table, Cake and Tall Centerpieces, along with Soundwave's Illuminated White DJ Front Board to add to the aesthetics.  With the groom in his white uniform and the bride in a white gown, their first dance to Because You Loved Me by Celine Dion was truly picturesque. A wireless mic was provided for the couple to give a personalized welcome greeting.
While guests celebrated the newlyweds with toasts from the best man and the maid of honor, parents danced with personally-requested songs.  The couple cut their cake Sugar by Maroon 5, a fitting song for a delicious cake.
Celebrating Veterans and Honoring the Happy Couple 
Wedding guests of all ages showed their love of dancing late into the night. With a mix of Latin and current pop,  DJ Ray Vales, Soundwave's Latin Expert, 
kept the party going and the dance floor packed!
The conversations and laughter carried on through the night, and the evening ended with a handpicked classic, I've Had the Time of My Life from the Movie 'Dirty Dancing.'  As the guests left the reception space and gathered outside for a sparkler send off, the bride and groom remained on the dance floor to share a private last dance before joining everyone outside.  
Venue: Four Seasons Resort Walt Disney World 
Coordinator: Bella Sposa Events
Photo: Lunic Visuals
Florist: FH Events
Soundwave DJ / MC: DJ Ray Vales 
Soundwave Lighting & Design, and Options:
Pinspotting on the Cake, Newlywed Table and Tall Centerpieces
24 LED Wall Uplights in very soft pink
Designer Illuminated DJ Front Board
Processional: A Thousand Years, The Piano Guys
Bride Entrance: Beautiful in White / Canon in D, Riyandi
Recessional: Higher Love, Whitney Houston & Kygo
Introduction: A Sky Full of Stars, Coldplay
First Dance: Because You Loved Me, Celine Dion
Cake Cutting: Sugar, Maroon 5
Last Dance: I've Had the Time of My Life, Dirty Dancing (movie)