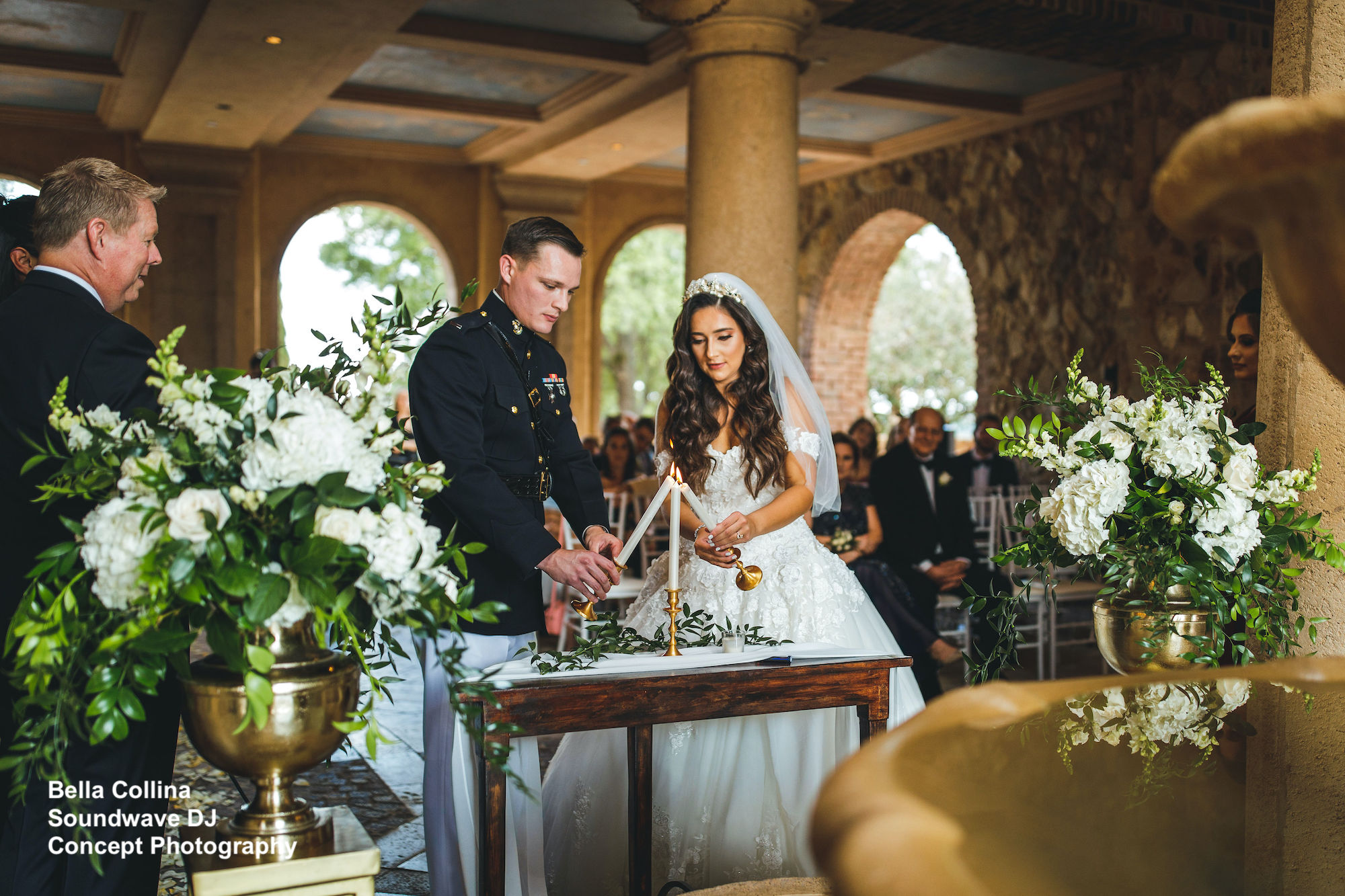 Ryan and Jennifer's Bella Collina wedding felt like a step back in time to old-world Tuscany. Tucked away in the rolling hills of Lake County, Florida, just 20 minutes west of Downtown Orlando, Bella Collina is one of Central Florida's premier wedding venues.  This luxury country club boasts magnificent views, Tuscan architecture, and five-star service.
The Orlando couple took advantage of the beautiful spring weather by hosting an outdoor ceremony and reception. Jennifer looked like royalty as she was escorted down the aisle to a beautiful medley of  "Concerning Hobbits" (Piano Version) & "Morunas" (Lord of the Ring: The Fellowship of the Rings). The couple exchanged sentimental handwritten vows in front of 80 of their closest friends and family members, before being announced husband and wife as "The Adventure" by Angels and Airwaves rang out over the speakers.
The reception was held on the grand lawn. Surrounded on all sides by rolling hills, Bella Collina is pure magic. Soundwave Owner DJ Les Kopasz introduced the guests of honor and newlyweds to "Ain't No Mountain High Enough" by Marvin Gaye & Tammi Tarrell.  The new Mr. & Mrs. shared a sweet first dance to "Leave This World" by Ray Scott. Guests enjoyed a classy evening which included a delicious buffet dinner, parent dances, cake cutting, and of course – dancing! As the sun sunk over the rolling hills of beautiful Montverde, guests packed the dance floor and danced all night to Brazilian music, throwback classics, country songs, and modern-day hits.
Twinkling stars dotted the night sky as "I Don't Want to Miss a Thing" by Aerosmith serenaded guests for one last dance. After everyone headed to the exit for a sparkler sendoff, the newlyweds enjoyed one final private dance to "Somebody to Love" by Queen. Everyone cheered & raised their sparklers as Ryan & Jennifer bid their final farewell to guests, a picture-perfect ending to this stunning springtime Bella Collina wedding.
Venue: Bella Collina
Coordinator: Blush By Brandee Gaar
Officiant: Sensational Ceremonies
Floral: Flowers by Lesley
Photo: Concept Photography
Video: Josh and Rachel Best Photo and Video
Soundwave DJ / MC:
DJ/MC Owner Les Kopasz
Soundwave Lighting & Design, and Options:
Dance Lights
Processional: Shallow, instrumental, Musica Instrumental De I'm In Records
Bride: Concerning Hobbits (Piano Version) – Morunas (Lord of the Ring: The
Fellowship of the Rings)
Recessional: The Adventure – Angels and Airwaves
Introduction:  Ain't No Mountain High Enough – Marvin Gaye, Tammi Tarrell
First Dance: Leave This World – Ray Scott
Father Daughter: Stand By Me – Ben E King
Mother Son: Forever Now – Michael Buble
Last Dance With Guests: I Don't Want to Miss a Thing – Aerosmith
Private Last Dance: Somebody to Love, Queen