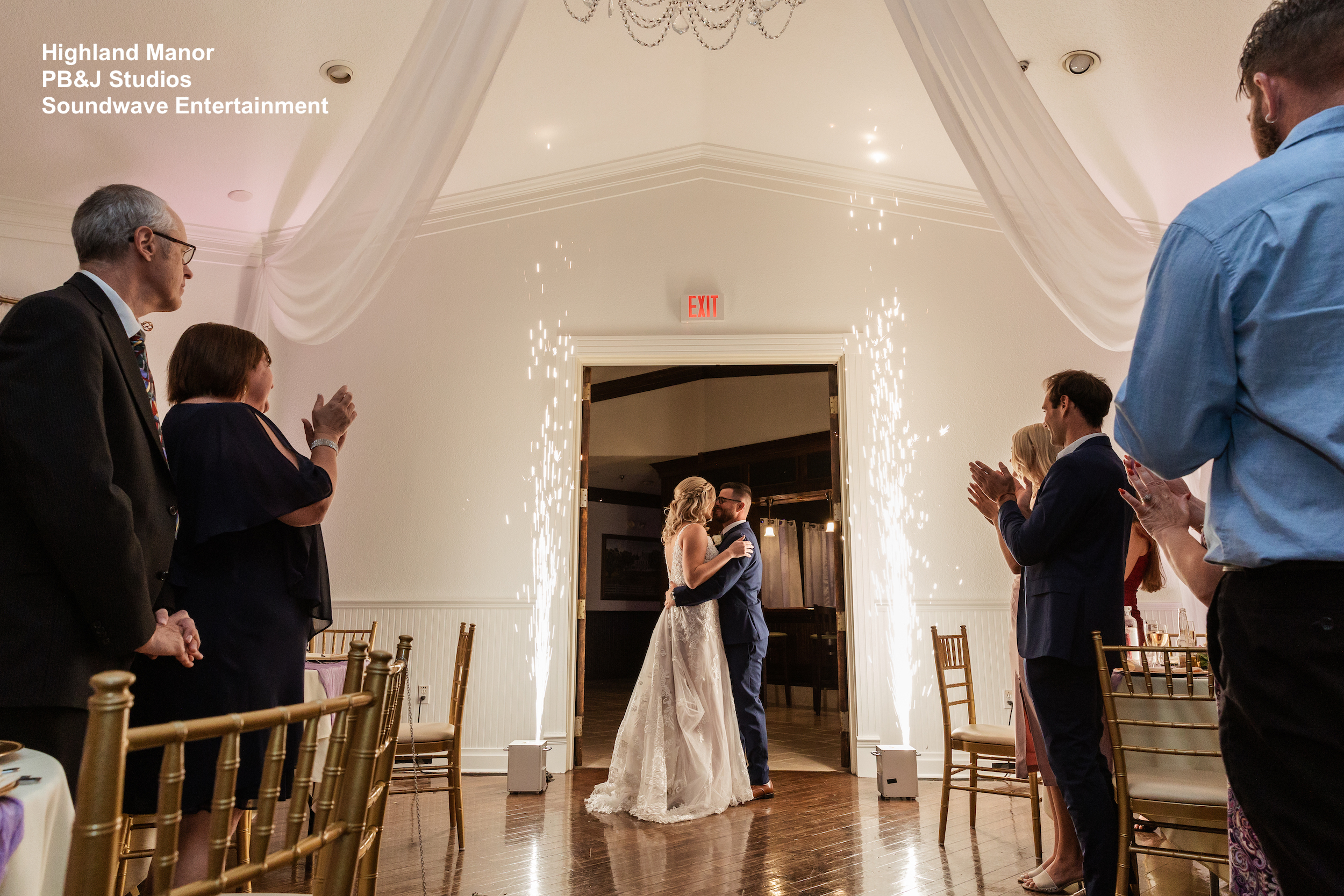 Lauren + Brandon
This was a most magical night for a Sparkling Highland Manor Wedding for a sweet couple! DJ and Owner Les Kopasz and technician Dylan Kopasz at Soundwave Entertainment provided all sound and sparks. From romantic kisses to dances, we can't wait to share all the sparkling photos caught by PB&J with you!
Ceremony
The wedding prelude started with our DJ playing 5 instrumental love songs which played thru our ceremony system. As the stunning bride made her way to the altar with the song Simply the Best filling the background, the Officiant welcomed guests and officiated the wedding with our Lavaliere Mic. The couple said their custom vows, hand in hand, and became husband and wife.
A Soft Pink Touch  
After the guests enjoyed appetizers and beverages during cocktail hour, it was finally time to celebrate. Illuminating the reception room perfectly were 18 LED Walll Uplights in soft pink, popping the gold decor! Our beautiful all-white sound system blended perfectly.
Traditions
The grand introduction of the wedding party and newlyweds is always our favorite part of the celebration.  As DJ Les hyped the crowd and the doors swung open revealing the bride and groom, Soundwave Spark Fountains showered the couple as the song The Good Part started and the new Mr. and Mrs. were introduced. Talk about a Grand Entrance! The guests enjoyed Guardians of the Galaxy Vocalist Mix during a buffet meal.
Sparkling
Speaking of Spark Fountains, the newlyweds also had a sparkling first dance, as they swept the floor to Anyone, by Justin Bieber. The night went on with requests like Precious Love, September, and This Will Be. Then, DJ Les got the guests up and dancing to songs like Cupid Shuffle, Cha Cha Slide, and Wobble. As the night came to a close, the guests exited and waited for the newlyweds to have their private last dance. As the bride and groom finished their dance to Stone, by Whiskey Myers it was time for the grand finale, a sparkling farewell exit!
We had a blast during this radio edited early 2000's to current hits wedding celebration! It was a beautiful night celebrating these sweet newlyweds during their Sparkling Highland Manor Wedding. Congratulations again, Lauren and Brandon!
Soundwave DJ / MC:
DJ Les Kopasz

Soundwave Lighting & Design, and Special Effects:
Optimus All White Luxury Sound System
Dance Party Lights
1 Cake Pinspot
18 LED Wall Uplights
2 Spark Fountains

Event Venue: Highland Manor
Photographer: PB&J