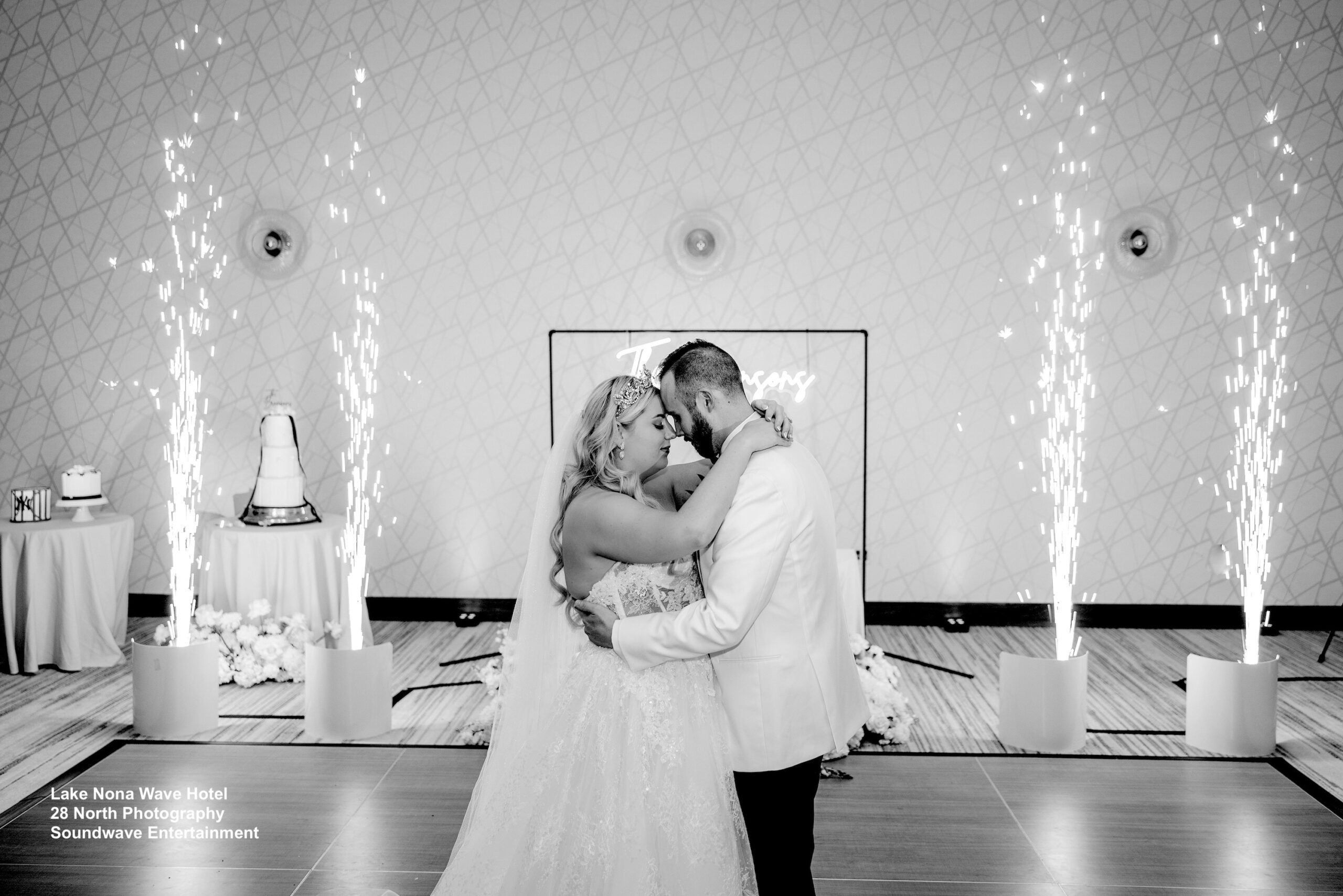 Hailing from Miami, Haley and Justin celebrated their Orlando wedding at Lake Nona Wave Hotel, Orlando's newest luxury venue.  With it's bold decor, modern artwork, and futuristic technology, this eclectic hotel was the perfect setting for the newlyweds big day!
Sculpture Garden Ceremony & Cocktail Hour
Lush tropical flowers, hundres of palm trees, and a world-class collection of iconic art pieces awaited guests in the Sculpture Garden.  The ceremony took place in the middle of this serene oasis.  A black dance floor provided an elegant aisle leading to a stately floral arch. Soundwave provided a lavaliere microphone for the officiant so guests could easily hear the vows.
On the opposite side of the garden, cocktail hour awaited.  Instrumental pop songs played as the 115 guests enjoyed appetizers and beverages.
Ballroom Reception
The ballroom was carefully appointed with candles, crisp black chargers, ghost chairs and white floral in crystal vases.  Soundwave's lighting technician arranged 20 LED Lights throughout the room in warm white. Our all white sound system sat perfectly to the side of the dance floor.  Positioned in the middle was the sweetheart table and 4 Soundwave Spark Fountains.  Another 2 Spark Fountains were positioned at the back doors.
DJ Les Kopasz welcomed guests and directed their attention to the back of the room for the grand entrance.  The couple chose two high energy songs.  The parents, bridesmaids and groomsmen entered to "Get Ready For This" by 2 Unlimited.  The energy kicked even higher when "I'm Good" by David Guetta began to play. As the doors opened to reveal the new Mr. and Mrs., the Soundwave Sparks ignited (don't worry they are 100% non-flammable)!  Wow, what a surprise!  But another surprise awaited!  Another 4 Spark Fountains at the dance floor lit up the room as the couple enjoyed their first dance as husband and wife.
Banging Dance Party!
The couple desired a high energy Miami vibe for their dance party.  They gave DJ Les free reign when it came to the music.  Some throwbacks, a few sing alongs and heavy 2000s hits kept the dance floor packed. Meanwhile, guests also enjoyed Soundwave's Photo Booth.
Sadly, every amazing party must come to and end.  But of course we made sure Haley and Justin's wedding went out with a bang.  As "Don't Stop the Party" played, the Sparks lit up the room one last time…a sparktacular ending for a perfect wedding!

Soundwave DJ
Owner Les Kopasz
Soundwave Special Effects & Enhancements
Luxury White Sound System "The Optimus"
20 LED Wall Uplights in very soft white
Pinspots on Cake and Newlywed Table
Spark Fountains
Photo Booth
Vendors
Venue: Lake Nona Wave
Planner: Hanover Celebrations
Photo: 28 North Photography
Video: Lupinek Productions
Florist: Gather and Grace Designs
Requested Music
Processional Song:  Sign of the Times, Steve Horner
Bride Song:  All Of Me, Paul Hankinson (piano cover)
Recessional Song:  Love Me Like You Do, Ellie Goulding
Formal Introduction:  Get Ready For This, 2 Unlimited & I'm Good, David Guetta and Bebe
First Dance:  Lifetime, Justin Bieber
Father Daughter:  My Wish, Rascal Flatts
Mother Son:  Don't Blink, Kenny Chesney
Last Dance:  Don't Stop the Party, Pitbull
Private Last Dance:  Hold My Hand, Lady Gaga
Requested Party Songs
679- Fetty Wap
Everybody – Backstreet Boys
Get Low – Lil Jon
Gimme! Gimme! Gimme! – Sgt Slick's Melbourne Recut Edit
Like a G6- Far East Movement
Shut Up and Dance – Walk the moon
This is your night – Amber
Whoomp! There it is