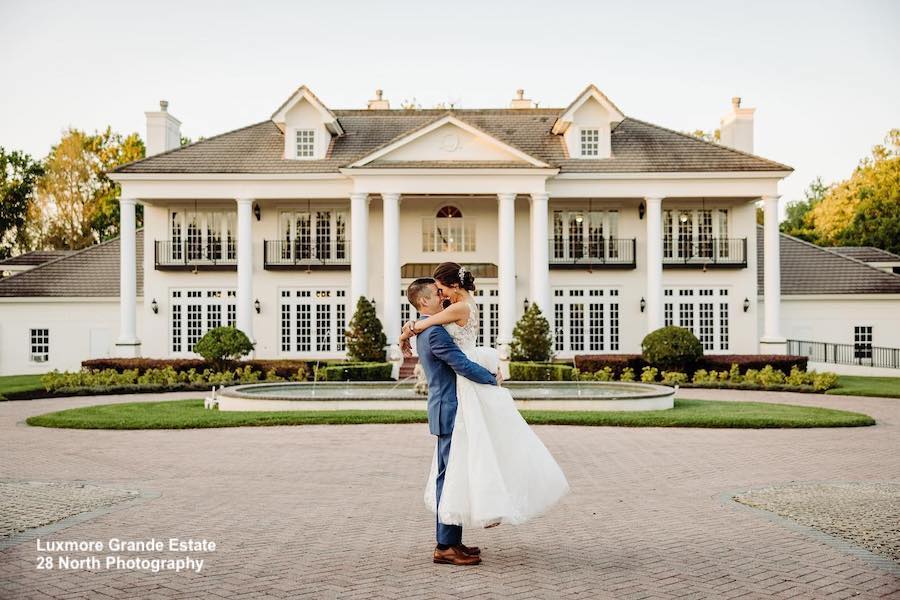 Michelle and Rylan celebrated their vintage country wedding March 26, 2022, at the lavish Luxmore Grande Estate.  This wedding was near and dear to our hearts as Michelle was a previous Orlando wedding planner we used to work side by side with very often.  It's always an honor when fellow industry experts choose Soundwave to be part of their wedding!
A Match Made in Heaven
Above all that we saw at the wedding, Michelle and Rylan's love for each other stood out the most. You could feel the attraction between them the moment you entered the room! It was no surprise that they chose chic, timeless pieces for their wedding attire, decor and playlists. The vintage-inspired gown with lace detailing, the bowties with the suits, the elegant tablescapes and floral arrangements worked together to tie in the vintage country wedding theme. The cherry on top was the throwback love songs that played all night long! Peppered with, of course, country music.
"I Do"
First, the bride and groom gave the people what they wanted with a beautiful, heartfelt ceremony. The vintage country wedding was off to a great start. A harpist played as Michelle floated down the aisle toward her groom. She and her father wore matching grins from ear to ear. Their union was sealed with a kiss, and cocktail hour began. DJ Justin stepped up with a custom mix of instrumental favorites, dating all the way back to the '60s. With such a wide variety of music, it was important to maintain the vibe. That's why we carefully selected each piece of music with care specifically for their event. It was a seamless transition. First, we were hearing a harpist play live during the ceremony. Next, we're sipping cocktails to instrumental versions of our favorite vintage hits by Elvis Presley, The Bee Gees and more.
Wedding Bliss
Next, we moved into the grand ballrooml where more vintage country wedding details awaited with perfect southern charm. But first, we had a touch of modern. I'm On Top of the World, by Imagine Dragons welcomed the parents and grandparents for the first part of introductions. Second, Bring Em' Out, by TI was the backing track to our newlywed's arrival to the party. They went right into their first dance, Keeper of the Stars. From there, it was back to back greatest hits ranging from our all-time country faves to classic love songs. The bride and groom requested songs like Love Shack, by the B-52's, My Best Friend, by Tim McGraw, and Sweet Caroline, by Neil Diamond. DJ Justin  served us nothing but vibes up until Don't Stop Believing, by Journey came on as the last dance.
Parting Is Such Sweet Sorrow
Finally, the time has come to say goodbye. The guests gathered their things and prepared to send off the new bride and groom out on the patio. But first, Michelle and Rylan stole away for one last intimate moment. I Crossed My Heart, by George Strait was the bride and groom's private dance. And just like that, holding each other arm in arm, their vintage country wedding ended the very same way it had began.
Venue: Luxmore Grande Estate
Coordinator: Blush by Brandee Gaar
Caterer: Big City Catering
Photography: 28 North
Videography: The Richards
Florist: Flowers by Lesley
Cake: Sugar Sugar
Soundwave DJ / MC: DJ Justin

Introduction: Bring 'Em Out, TI
First Dance: Keeper of the Stars, Trace
Last Dance: Don't Stop Believin', Journey
Private Dance: I Crossed My Heart, George Strait