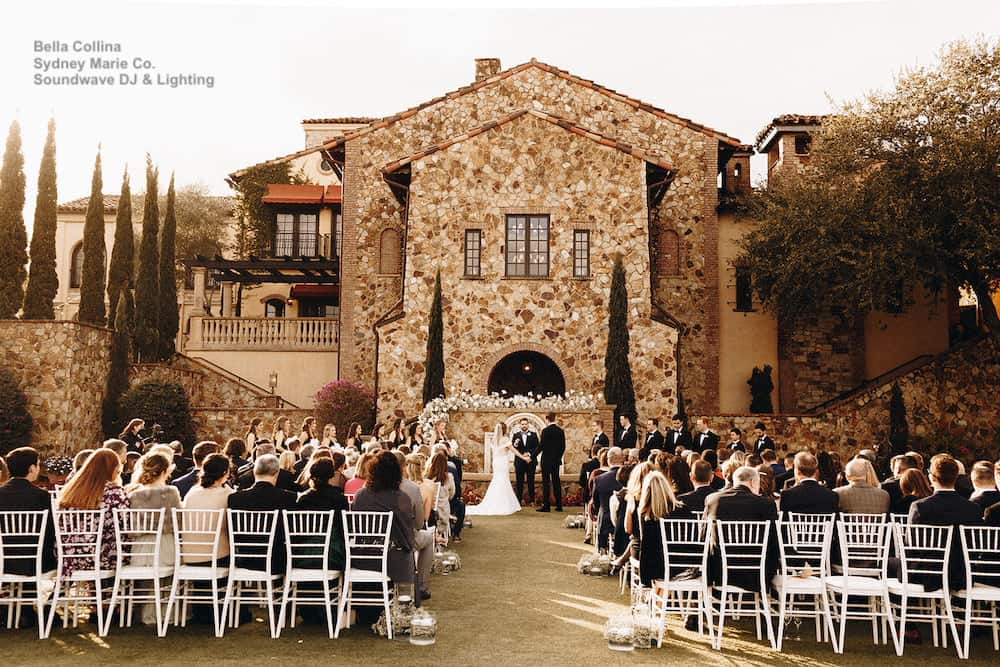 On a gorgeous late afternoon in the Florida winter, Kellie and Franklin stood in the courtyard of Bella Collina and said "I do" among all of their family and friends. The sunset was low in the sky, touching the very tops of the trees. Its soft glow cast glittery rays of sunlight across all of the guests. This was the perfect start to a beautiful golden Bella Collina wedding! The night only got better from there.
Courtyard Ceremony
The outdoor scenery at Bella Collina was simply breathtaking. The grandiose exterior wall of stonework, accented with gorgeous architecture, was a stunning backdrop for any wedding. Unquestionably, Kellie and Franklin's special day on Sunday, January 16, 2022 was no exception. The ceremony was elegant, with beautifully placed floral blooms. The bride and groom looked simply divine in their traditional wedding attire. You couldn't have asked for a more picture-perfect day!
Soundwave Set Up
After stepping into the Bella ballroom, you could see that our team had been hard at work. In the background, 24 LED Wall Uplights set to "warm glow" for this golden Bella Collina wedding shone brilliantly. They bathed the room in the warmth of gentle candlelight. In addition, we highlighted the wedding cake with a Pinspot Light. After our couples spend so much care and consideration choosing their cakes, we don't want them to go unnoticed!
Time to Celebrate
As the guests filtered into the reception, Soundwave Owner DJ Les Kopasz was ready to go. First came the introductions of the wedding party and newlyweds. And can you guess what song they had picked for this moment? That's right, Golden, by Harry Styles welcomed them to the room and straight into their first dance. Coming Home, by Leon Bridges had everyone feeling sentimental as the new couple held each other on the dance floor. After welcomes, speeches, and a blessing, it was time to eat! During dinner, we played a music mix based on the iconic soundtrack from "Guardians of the Galaxy." It has always been a crowd favorite! Next, as the meal finished, the newlyweds each danced with their parents. There wasn't a dry eye in the house! Then, we took a sharp left turn for some much-needed dancing relief!
Turn It Up
Is it just us, or has Whitney Houston's iconic "IIIIIIII wanna dance with somebody!" become the universal call to the dance floor? This golden throwback was an excellent kick off for dancing. From there, DJ Les kept up the older hits from artists like The Beatles, Elton John and even 80's hairbands. In addition, current hits came into play. The couple requested early 2000s pop hit like "Yeah" by Usher, and DJ Les made it all fit seamlessly for a night to remember. Our dance lights brought the perfect touch of energy against the warm, cozy ambiance of our golden Bella Collina wedding.
That's a Wrap!
Finally, after everyone has danced the night away, DJ Les played our second to last song, Don't Stop Believing, by Journey. After this crowd favorite, the call for final song came in with Shut Up and Dance, by Walk the Moon. Whew! What an unforgettable evening. We played soft music as guests filtered through the exit to prepare for the bride and groom's send off. Meanwhile, the newlyweds stole a special intimate moment for a private dance to La Vie En Rose, by Louis Armstrong. Lastly, guests held their sparklers high as Kellie and Franklin ran hand-in-hand towards their happily ever after.
Venue: Bella Collina
Coordinator: Bella Sposa Events
Photo/Video: Sydney Marie Photography
Florist: Gather and Grace Designs

Soundwave DJ / MC: DJ Les Kopasz
Soundwave Lighting & Design:
24 LED Lights in Warm Glow
1 Pinspot Light on cake
Dance Lights
Introduction: Golden, Harry Styles
First Dance: Coming Home, Leon Bridges
Last Dance: Shut up and Dance, Walk the Moon