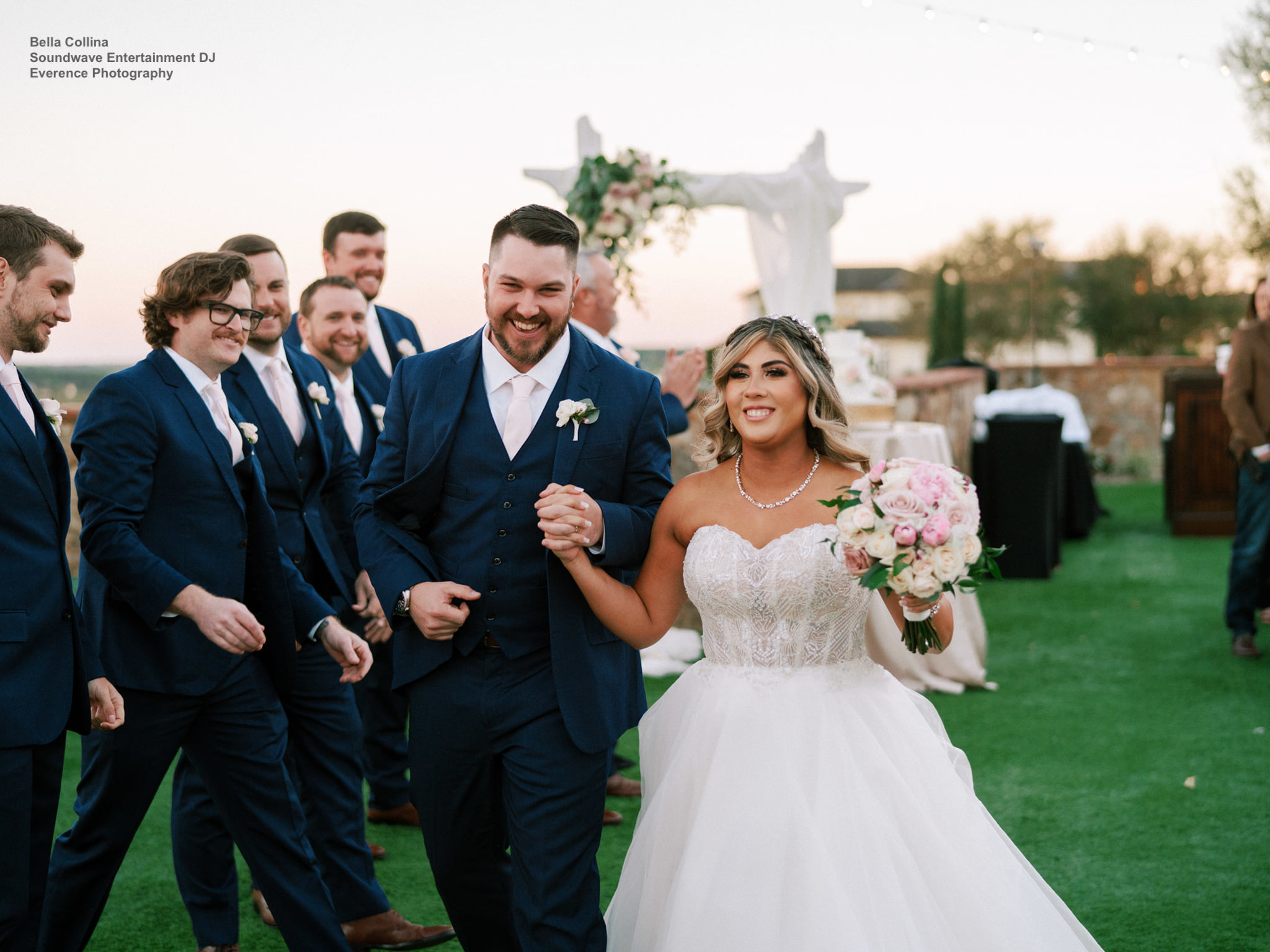 Mariah and Truitt's Bella Collina wedding felt like a step back in time to old world Tuscany. This stunning venue is located in beautiful Montverde, Florida, and makes guests feel as though they've been swept away on vacation to the picturesque Italian countryside. Bella Collina boasts rolling hills, sparkling lakes, and impressive Tuscan inspired architecture. It's no wonder this venue is at the top of many couple's lists.
Mariah and Truitt exchanged vows on the Grand Lawn, overlooking breathtaking waterfront views. Our guitarist Pete Lapre serenaded guests to a beautiful selection of "Cannon in D" for the processional and "Here Comes the Bride." There's always an extra special touch when live music is played during an event. Pete continued to entertain guests during cocktail hour with a collection of Disney songs, specially requested by the bride and groom.
Florida's mild winters and minimal rain make it an excellent time of year to host an outdoor wedding. This couple took advantage of the opportunity to host an exquisite reception under the stars.  The Grand Lawn was reset with reception tables, a dance floor and breathtaking floral arrangements, all set under a magnificent chandelier and twinkling lights. DJ Ray Vales got the party started by introducing Mr. & Mrs. Renaud to "Jump" by Van Halen, followed by the newlywed's sweet first dance to "Can't Help Falling in Love" by Haley Reinhart.
Guests enjoyed a delicious plated dinner catered by Bella Collina as DJ Ray played a custom curated mix of songs selected by the bride and groom. With music by Christina Perri and Taylor Swift, and Tom Petty to Fleetwood Mac – this couple thoughtfully selected a mix of classics and modern day hits. After dinner, guests flooded the dance floor and spent the evening dancing under the stars to a mix of classic rock, throwback 80s-90s, motown, country and top 40 selections. As the night wound down, Mariah and Truitt shared a final dance with their friends and family to "I Do" by Jessie James Decker. Guests sent the newlyweds off with a beautiful sparkler sendoff to cap off this stunning Bella Collina wedding under the stars.
Venue: Bella Collina
Catering: Bella Collina
Coordinator: Blush by Brandee Gaar
Floral: Linens and Flowers Design
Photo: Everence Photography
Cake: Sugar Sugar Cake Boutique
Soundwave DJ / MC:
DJ/MC Latin Expert Ray Vales
Soundwave Lighting & Design, and Options:
Guitarist Pete Lapre
Dance Lights
Processional: Guitarist Pete …. Cannon in D
Bride: Guitarist Pete…. Here Comes the Bride
Recessional: Guitarist Pete…You Make My Dreams Come True
Introduction: Jump, Van Halen
First Dance: Can't Help Falling in Love, Haley Reinhart
Father Daughter: The Way You Look Tonight, Frank Sinatra
Mother Son: Landslide (early version), Fleetwood Mac
Last Dance With Guests: I Do, Jessie James Decker