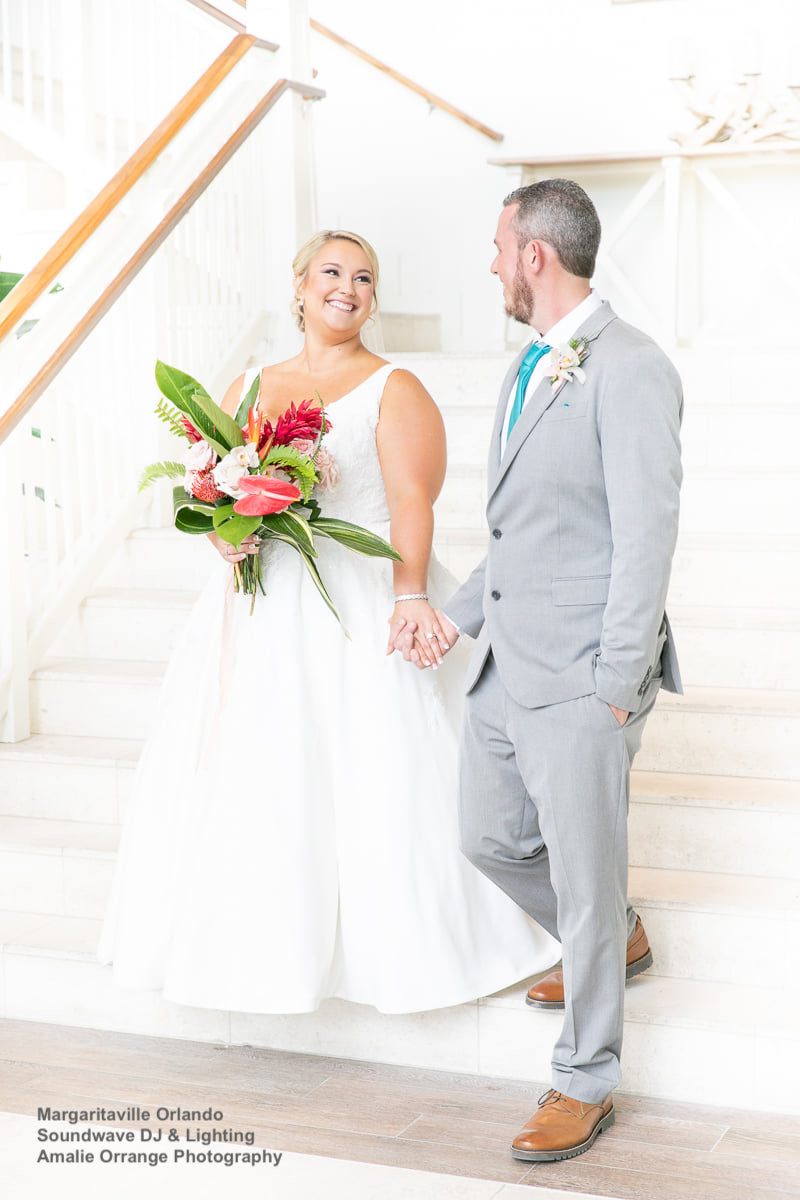 James and Karsyn's Margaritaville Resort wedding, May 15, 2021, felt like a destination wedding to a tropical paradise. Held at the Margaritaville Resort in Orlando, FL, guests felt as though they had been whisked away on a Caribbean vacation complete with beautiful lagoon-style pools, tropical pool bars, and stunning coastal decor.
The couple's unplugged ceremony began as exquisite bride Karsyn was escorted down the aisle to "Perfect" by Ed Sheeran. The newlyweds exchanged vows in a lovely outdoor ceremony beneath the shade of Florida palm trees, as 90 of their closest friends and family members looked on.
Following cocktail hour in the prefunction area to the ballroom, steel drums serenaded guests as they began to be seated for the reception in the Grand Ballroom. Beautifully decorated with tropical florals and soft LED Wall Uplighting – the ballroom had an inviting coastal vibe.
Soundwave Owner DJ Les Kopasz introduced the wedding party to "Party Rock Anthem" by LMFAO, then Mr. and Mrs. Hale were announced to "Best Love Song" by T Pain and Chris Brown. The newlyweds danced to "Better Together" by Luke Combs before groom James formally welcomed their guests.
The evening was a lovely mix of dinner, parent dances, cake cutting, and open dancing. DJ Les was given creative liberty to choose most of the playlist and kept the dance floor packed with a solid mix of 80s rock, throwback 80s-90s, early 2000s, country, and current hits. The night drew to a close as "Don't Wanna Go Home" by Jason Derulo was played for the last dance with guests. After everyone had gathered outside for a formal farewell, the newlyweds shared a sweet private dance to "Under My Skin" by Nate Smith, closing out the evening on their tropical Margaritaville Resort wedding.
Soundwave DJ / MC:
DJ/MC Owner Les Kopasz
Soundwave Lighting & Design, and Options:
Designer Illuminated DJ Front Board
Dance Lights
24 Uplights for Main Focal Wall and Entrance Doors
Cake Pinspot
Processional: Valentine, Jim Brickman
Bride: Perfect, Ed Sheeran
Recessional: Marry You, Bruno Mars
Introduction: Party Rock Anthem, LMFAO
First Dance: Better Together, Luke Combs
Father Daughter: I Loved Her First, Heartland…fade
Mother Son: My Wish, Rascal…fade
Last Dance With Guests: Don't Wanna Go Home, Jason Derulo
Private Last Dance: Under My Skin, Nate Smith
Venue: Margaritaville Resort
Coordinator: Melanie Paige Events
Caterer: Margaritaville Resort
Floral: Fern and Curl Designs
Photo: Amalie Orrange
Video: The Garrs
Cake:  Cake and Bake